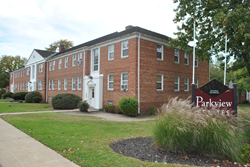 Out of State Interest in the Northeast Ohio Apartment market continues to grow rapidly. "Of all of the Multi Family transactions I have had the pleasure to work on in the last 8-10 months, none have Sold to local buyers." said Matthew King, CCIM
East Cleveland, Ohio (PRWEB) February 25, 2016
Green Bridge Real Estate is pleased to announce the sale of the 70 Unit Parkview Estates Apartments located at 1832-1864 Forest Hills Blvd., in East Cleveland, Ohio. The buyer, Parkview Estates Cleveland LLC, is an entity owned by the out-of-state buyer. This sale is representative of the amount of Out-Of-State Interest that Investment properties in Cleveland are drawing. The Four (4) approx. 60,822 total Sq.Ft. All-Brick, 2-Story Buildings on 5 acres, consisting of 16 one bedroom, one bath units and 54 two bedroom, one bath units closed Escrow on January 28, 2016 for $850,000.00 or $12,142 per unit. The Lender on the property directed the short Sale. At the time of transfer, the Parkview Estates Apartments were 84% Occupied. Most Recent Net Annual Operating Income was $235,162 or a 27.67% Capitalization rate at the sales price. Matthew King, CCIM represented the Seller in the Sale.
Matthew S. King, CCIM, a Licensed Ohio Real Estate Broker, is a Multi-Family Sales expert and has successfully assisted in the Sale of over 500 Multi-Family Units in Northeast Ohio over the last 36 months totaling close to Ten Million Dollars.
Green Bridge Real Estate is located on West 140th St. & Brookpark Road in Brook Park and is owned and operated by Matthew King, CCIM and John Wagner.