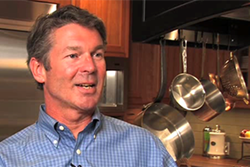 " I couldn't have achieved this award without the support of my staff at Hofmann Design Build. I truly believe you are only as good as the people you employ, and I have the best!"
Morristown, New Jersey (PRWEB) February 18, 2016
Ernst Hofmann, principle and owner of Hofmann Design Build has been named Remodeler of the Year by the Metropolitan Builders and Contractors Association of NJ for 2015. This prestigious award is presented each year to recognize a builder in the specific area of remodeling. This person continues the time honored tradition as an active remodeler.
"My firm has received the award of excellence every year since 1983 and I have always been very proud of this honor, but to be named remodeler of the year is indeed an honor that I will cherish for a long time to come. I couldn't have achieved this award without the support of my staff at Hofmann Design Build. I truly believe you are only as good as the people you employ, and I have the best!"
The Metropolitan Builders & Contractors Association of NJ (Metro) is a local professional trade organization affiliated with the New Jersey Builders Association (NAHB) and the National Association of Home Builders (NAHB) to promote and protect all segments of the residential building industry and its customers in Essex, Morris, Union, Somerset, Warren and Hunterdon counties. Its goal is to enhance its members' ability to provide safe, affordable, quality housing to the citizens in New Jersey.
Metro BCA's mission is to provide information and exchange of ideas for our members and the general public, in order to promote the welfare of the Home Construction Industry in the State of New Jersey.
Hofmann Design Build is a 32 year old firm with new and exciting ideas that create beautiful and personalized living spaces in homes and light commercial buildings. The firm specializes in the design build remodeling process for home, kitchen and bathroom remodeling. With staff architects, designers and artisan craftsman working together, they create the ultimate working relationship between homeowner and firm. For more information on design build, go to http://www.hofmanndb.com
You can reach Ernie at 973.998.6820 or you can email ernie(at)hofmanndb(dot)com