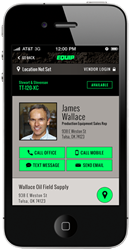 We connect companies looking to work, to be seen by those looking to hire.
Tulsa,OK (PRWEB) February 18, 2016
Equip Advantage has announced a new one time per year pricing structure to insure that it is staying competitive in the down Oil & Gas market.
"We believe that the Oil & Gas industry is one of the most important industries in our home state of Oklahoma and across the country and want to do everything we can to give companies the ability to maximize opportunities in this down market," said an Equip Advantage spokesperson.
The new pricing is simple, for only $99 per year you get all the services and connections that Equip Advantage has to provide. Oil and gas industry companies will be able to add their company to the Equip Advantage mobile app and website allowing their services to be found by those looking to hire. Using GPS, the user of the Equip app will be able to search services by category and find those services by how close they are to the job site. Once found, they will get all information needed to contact the salesperson or point of contact's name, email, text and phone numbers. Under those listings, there will be pictures of equipment that will be used. Included in the service is a marketing push to Equip Advantage's thousands of oil and gas connections across the world. Equip Advantage also has job listings for those hiring or looking to be hired. Equip Advantage also offers classifieds for equipment needing to be bought or sold and services that market the Oil & Gas industry to be found such as hotels, restaurants, etc. They also provide branding and sponsorship options on their website. Equip Advantage has already added hundreds of companies and is adding more every day. The Equip app is available on both Android and iTunes. For more information contact sales(at)equipadv.com or equipadvantage.com.