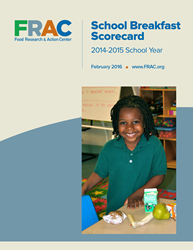 "School breakfast ensures low-income children get the nutrition they need to support their health and learning," said Jim Weill, president of the Food Research & Action Center.
WASHINGTON (PRWEB) February 16, 2016
- Companion Report Shows Many Large School Districts Make the Grade, Most Have Work to Do -
The Food Research & Action Center (FRAC) today released its annual "School Breakfast Scorecard" which measures states on the rate of participation of low-income children in the federally-funded School Breakfast Program. West Virginia tops the Scorecard, while Utah is at the bottom. Nationally, school breakfast participation grew steadily in the 2014-2015 school year, continuing a trend of rapid expansion over the last decade.
On an average day during the 2014-2015 school year, 11.7 million students eligible to receive free and reduced-price school meals participated in school breakfast, an increase of 4.2 percent, or nearly 475,000 children from the previous year. Overall, 44 states increased their free and reduced-price school breakfast participation in the 2014-2015 school year.
"The good news is that more low-income children across the country are starting the day with a nutritious meal to support their health and learning," said FRAC President Jim Weill. "Progress is being made; however, there is still plenty of room for improvement. Federal and state agencies, school districts, and education stakeholders must continue to build on the momentum gained in recent years to ensure many more children participate in the School Breakfast Program if we are to reap all of that program's educational, health and anti-hunger benefits."
A companion report to the Scorecard, "School Breakfast: Making it Work in Large School Districts",also released today by FRAC, looks at trends and best practices for reaching more low-income children in the nation's largest school districts.
Of the 73 large, mostly urban school districts surveyed for the Large School District report, 23 — more than double from the previous year's report — achieved FRAC's 70 to 100 benchmark. A number of the top-performing school districts — San Antonio Independent School District, Cincinnati Public Schools, and Detroit Public Schools, among others — serve a particularly high proportion of economically disadvantaged students.
The progress made by this year's top performers in both reports demonstrates the power of linking alternative breakfast service models, such as breakfast in the classroom, "grab and go," and second chance breakfast, with offering breakfast free to all students.
"We know what works, and more children are eating breakfast as a result," added Weill. "Yet, our data show that there are still too many students, states, and school districts missing out on the benefits of school breakfast."
Both school breakfast reports may be found at frac.org.