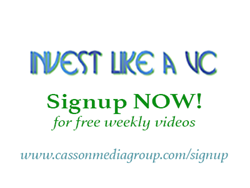 Dallas, Texas (PRWEB) February 17, 2016
Casson Media Group, Inc. introduced a new, no cost weekly video series, Invest Like A VC. With the passage of the JOBS Act of 2012 startup and small private companies can now publicly solicit for capital. This is the most significant change in the securities laws in over 75 years. Once a niche occupied primarily by venture capitalists and angel investors is now open to the public. More than ninety-nine percent of the population has never made an investment in a private company. $1000 of Apple stock purchased prior to their public offering would be worth today well over $50,000. Similar returns were realized with companies like Facebook, Google, and others.
Invest Like A VC helps individuals find, analyze, and invest in the "Next Big Thing". Each week a new installment is published. The information is delivered in easy to understand animated video format.
Signup for Invest Like A VC http://www.cassonmediagroup.com/signup
An email notice is sent weekly when a new installment is published.
Prior to signup you can view Installment One: http://www.cassonmediagroup.com/installment