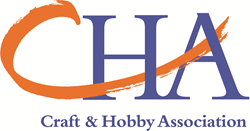 Elmwood Park, NJ (PRWEB) February 16, 2016
The Craft & Hobby Association (CHA) is pleased to announce the promotion of Jason Baum to Director of Membership effective February 2016.
Jason has been with CHA since 2012, leading the organization's digital marketing and advertising programs as Associate Director of Marketing and serving as Assistant Editor of Craft Industry Today. In his redefined role at CHA, Jason will lead all aspects of the Associations' Membership Department and will take on redefining and marketing the CHA Membership programs.
"Jason's commitment to serving our membership and his passion for the creative community that comprises CHA make him the perfect leader in this essential role," states Maureen Walsh, Vice President of Membership and Marketing, CHA. "Jason's focus will be on delivering the best membership experience possible to all CHA members, and in guiding our programs and benefits as we continually improve to better serve an ever changing creative products industry."
Jason received his B.A. in Communication from William Paterson University. He actively volunteers as a Marketing Consultant for the Enright Melanoma Foundation and on Team Fox at The Michael J. Fox Foundation for Parkinson's Research.
Prior to joining CHA, Jason worked as a Development & Communications Manager for the Commercial Finance Association in New York, NY. Prior to that, he worked as Community Relations Associate for Financial Executives International.
###
ABOUT THE CRAFT & HOBBY ASSOCIATION
The Craft & Hobby Association (CHA) is an international nonprofit trade association consisting of thousands of member companies engaged in the design, manufacture, distribution and retail sales of products in the worldwide craft and hobby industry. For more information about CHA, membership or its award-winning CHA Conference and Trade Show, visit http://www.craftandhobby.org.