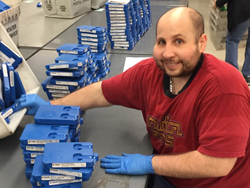 When I first started working here, I couldn't figure out why they would hire people who have a disability. Now, when I see the changes in them, it's just amazing
Daytona Beach, FL (PRWEB) February 18, 2016
When Corey North came to Vocational Rehabilitation (VR), a state agency that helps people with disabilities find jobs, he knew exactly where he wanted to work— the Florida Talking Book Library. "I tried to get him to apply for other jobs because the library didn't have any job openings, but he always said no," says his VR counselor, Joyce Barros.
"I wasn't really trying to work at other places, so she [Joyce] was about to get on my case, but then I got the job so she didn't have to," Corey says with a grin.
"He is persistent and determined, and he waited until a position opened up," Joyce explains. "He must get the credit for being so determined and persistent, maybe a little bit stubborn, but it really paid off for him." She is proud of Corey and the progress he has made since she first started working with him. "Every time I saw him, I felt that he was more self-confident. He didn't seem as forgetful, and he started developing ways to remember better. We give our customers the tools, but it only works if they pursue it. In his case, he did, and that's why it worked."
Corey is forgetful because he developed dementia at a young age due complications from brain surgery to have a tumor removed. It affected his mood and mobility, and often left him unable to remember instructions.
So Corey came to VR in 2008 for help in finding a job, he needed to find a work environment where he would feel comfortable. His mother volunteered as a recording producer at the Florida Talking Book Library in Daytona Beach, so Corey decided to go with her.
Corey worked alongside other employees and volunteers at the library inspecting the plastic cases that hold the media when they came in. Each book is recorded either on a cassette or special jump drive and housed in a plastic box. "We inspect them to see if they have the wrong card in them or if they're dirty, and then get them ready to ship back out," explains Corey.
After years of volunteering, Corey finally learned the library had a full-time job opening. The library was willing to split it into two part-time positions so Corey and another young man with disabilities could both become employed. Corey applied for the job and was quickly hired.
"He works 15 hours a week," says his supervisor, Melody Kauffman. "He helps unload the truck and sort the boxes, and he sorts the digital material in the mail room. He's working in the mail room when he gets here in the morning and then he does inspections. Corey pretty much can do whatever I need him to do. He's done really well."
And just like that, Corey has come out of his shell. "When he used to come in, he really didn't talk to anybody. He was quiet," Melody explains. "Now, he's right there with the boys, yacking and talking. You'll see him out there talking the whole time he's inspecting. You know, he's really changed a lot."
Melody is happy to have Corey as a member of her staff. "He's quite an asset. He's easy to talk to, and he asks questions when he doesn't understand. Corey's just a good guy to work with. He's learned a lot since he's been here. He's gotten more responsible, and he likes the responsibility."
Melody hopes that other employers will give people with disabilities a chance. "When I first started working here, I couldn't figure out why they would hire people who have a disability. Now, when I see the changes in them, it's just amazing."
If you have trouble reading print as the result of an eye problem, a reading disability, or difficulty holding a book because of a disability, you can apply for library services. The Florida Talking Books Library is under the auspices of the Library of Congress (http://www.loc.gov/nls/) and each state has its own library. For more information how you can become a member of the Florida Talking Book Library, go to http://dbs.myflorida.com/Talking%20Books%20Library/index.html.
About Vocational Rehabilitation
Florida's Vocational Rehabilitation (VR) is a federal-state program committed to helping people with disabilities become part of America's workforce. The employer-focused website, https://abilitieswork.employflorida.com/, allows businesses to search at no charge for employees who are ready to go to work, as well as to post available jobs. VR has 90 offices across Florida, and last year helped 5,760 Floridians with significant disabilities find or keep a job. For more information about VR and its services, call (800) 451-4327 or visit http://www.Rehabworks.org.