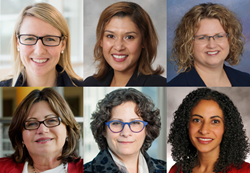 Their influence derives from this work, as well as their work to support the advancement of women in this critical industry.
New York, NY (PRWEB) February 16, 2016
PaymentsSource, the leading source of information and analysis for payments professionals, has announced its 2016 ranking of the 25 Most Influential Women in Payments. The 4th annual ranking is published online at PaymentsSource.com/women-in-payments.
PaymentsSource will recognize this year's honorees on Tuesday April 12th, during the "Women in Payments Leadership Summit" held during the 28th Annual Card Forum & Expo at the JW Marriott Los Angeles, hosted by PaymentsSource and American Banker.
"The Most Influential Women in Payments are setting the pace in one of financial services' most dynamic sectors -- leading efforts on key initiatives such as EMV-chip card security, mobile-wallet adoption, and the faster payments ecosystem," said Daniel Wolfe, Editor-in-Chief of PaymentsSource. "Their influence derives from this work, as well as their work to support the advancement of women in this critical industry."
The honorees, selected by the editors of PaymentsSource, are responsible for businesses and innovations as diverse as the payments industry itself. They are technologists, entrepreneurs, leaders and influencers throughout the worlds of banking, payment processing, hardware development and merchant acquiring.
PaymentsSource's 25 Most Influential Women in Payments are (in alphabetical order):

Cindy Armine-Klein, First Data
Ann Cairns, MasterCard
Kristy Cook, Target
Doris Daif, American Express
Amala Duggirala, ACI Worldwide
Jane Elliott, Global Payments
Stephanie Ericksen, Visa
Janet Estep, NACHA
June Felix, Verifone
Stephanie Ferris, Vantiv
Reetika Grewal, Silicon Valley Bank
Annmarie "Mimi" Hart, MagTek
Martina Hund-Mejean, MasterCard
Carol Juel, Synchrony Financial
Kara Kazazean, Walmart
Juliette Kennel, Swift
Shazia Manus, The Members Group
Leslie McNamara, Citi Retail Services
Dawn Murray, FIS
Diane Offereins, Discover Financial Services
Kathleen Pierce-Gilmore, PayPal
Ellen Richey, Visa
Colleen Taylor, Capital One
Patty Watson, TSYS
Stephanie Wolf, Bank of America Merrill Lynch
ABOUT PAYMENTSSOURCE
PaymentsSource is the leading provider of information and analysis for senior professionals in payments, a critical and dynamic industry spanning banking and financial services, retail and business, and e-commerce and technology. The PaymentsSource product suite includes a premium content service at PaymentsSource.com, annual events and conferences, and research and marketing solutions.
ABOUT SOURCEMEDIA
SourceMedia LLC, an Observer Capital company, is a diversified business-to-business digital media, marketing services, research, and event company serving senior professionals in the financial, technology, and healthcare sectors. Brands include American Banker, The Bond Buyer, Financial Planning, Mergers & Acquisitions, Accounting Today, Health Data Management, and Employee Benefit News.