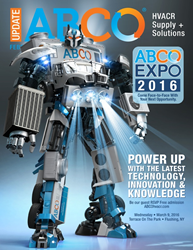 It is the place to establish and renew the relationships that are vital to success in HVAC & Refrigeration
Long Island City, New York (PRWEB) February 18, 2016
ABCO HVACR Supply + Solutions invites all HVAC (Heating/ Ventilation/Air-Conditioning) and Refrigeration professionals to the ABCO EXPO 2016, at Terrace on the Park in Flushing, New York, on Wednesday, March 9, 2016. Show hours are 12:30 pm to 8 pm. Admission and parking are free. The show is also open to developers, builders and students.
The Expo is the one event to meet all the leading suppliers and innovators-- eye-to-eye and in-person. Said Hugh Drumm, ABCO Executive Vice President of HVAC Sales, "It is the place to establish and renew the relationships that are vital to success. In this day and age of emails and texting, nothing captures the energy, the excitement and the exchange of important ideas in a personal way the way the EXPO does."
Over 200 exhibits and 5,000 attendees are expected to be on hand.
Luxaire, Mitsubishi Electric, Heatcraft, Chemours and Copeland will host special HVAC and Refrigeration Tech Sessions. They will focus on the products, industry challenges, and opportunities that drive businesses and careers. In the coming years, the HVAC and Refrigeration industries will require more qualified pros to stay ahead of the technology curve, and will need to meet the demand for entrepreneurial-minded people with sales and business skills. Featured exhibits and classes will highlight;

How the Efficiency and Serviceability of the new Luxaire LX Series can drive sales
The Revolutionary Luxaire Commercial Product Launch
All the advantages of the New Mitsubishi Electric Kumo Cloud Controller App, and the latest Hyper-Heating and high value ductless systems.
The Upcoming Regulations & New Generation Refrigerants
The event also includes generous promotional giveaways and a tantalizing comp meal. A variety of valuable prizes will also be raffled off with the proceeds going to Make-A-Wish.
The ABCO EXPO exemplifies the company's ongoing commitment to sharing knowledge and providing outstanding service to its customers and communities.
ABCO HVACR Supply + Solutions was founded in 1949. Under the leadership of CEO Michael Senter, ABCO has become the nation's leading independent HVACR resource. With 18 branch locations, expansive service and experience, ABCO is committed to exceeding their customers highest expectations. For more information on ABCO HVACR Supply + Solutions and the ABCO EXPO, visit ABCOhvacr.com or contact Chief Marketing Officer Bob Cesiro at 718-937-9005 ext.1280, or at bcesiro(at)abco(dot)co