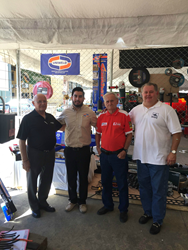 Quality tools that go to work with you.®
Santo Domingo, Dominican Republic (PRWEB) February 18, 2016
Uniweld Products Inc. and Agro Industrial Ferretera, S.A. teamed up to educate Welding technicians on the benefits of oxyfuel products Uniweld has to offer in the market. Along with Uniweld Products, other participants in the show included Direct Wire & Cable, Telwin and Metabo. Uniweld strives to not only supply Welding technicians with U.S. made quality tools but also with the training to use those tools safely and effectively. The show covered the basics of welding product exposure, proper procedures when using compressed gases and flame tools, as well as demonstrations of Uniweld's wide selection of oxyacetylene equipment. In addition, attendees had the chance to receive giveaways and win raffles when attending seminar.
Attendees were impressed at the product selection Uniweld presented at the show. Their welding outfit, OPH1-780A (Roughneck kit) style Victor, was a BIG hit exemplifying a complete super heavy duty Oxyacetylene/Propane outfit for cutting, welding brazing & heating. Another popular product that drew people's attention was Uniweld's Trakutter (Cutting Machine) which is a portable track-style machine that can operate on its own track for precision straight line cutting.
The host, Agro-industrial Ferretera S.A., is an Industrial hardware store with more than 20 years in the market selling hardware/equipment locally and nationally in the Domincan Republic. Their hardware stores include over 20,000 products in permanent stock. Subsequently, today they import almost all kinds of materials such as hardware: power tools, locksmith, plumbing, bearings, electrical products, abrasives and most importantly welding/cutting tools.
With more than 67 years of manufacturing quality products in USA, at Uniweld's factory in Fort Lauderdale, Florida, they can control the entire process from engineering, manufacturing and quality control in one single point. Logistically, they can manufacture and deliver the product at border in a short time. A greater advantage is that, not only can they manufacture equipment in style Victor, but also in style Harris, as also style Airco/Concoa.