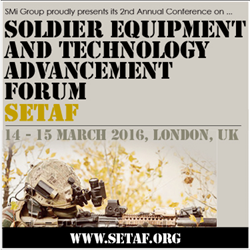 With a recent acceleration in available technology, thecapacity for development holds more potential than ever,and the collaboration needed between military andindustry remains increasingly important.
London (PRWEB UK) 17 February 2016
SETAF 2016 will bring together military and industry experts to lead focused discussion groups and help participants drill down on the latest strategic, technical and scientific research, all designed to allow those at the forum to return to their organisations better equipped to solve the next big programme challenges.
TOP 5 REASONS TO ATTEND SETAF 2016:
1) EXPERTISE: With over 20 years of experience organising high level defence meetings, SMi is delighted to present SETAF 2016, providing the perfect location and audience to discuss the latest achievements in redefining soldier equipment strategies for complex operational environments. Visit http://www.setaf.org/prweb to download event brochure.
2) UNIQUE EVENT FORMAT: 21 leading experts commit their time to this alternative event where the very proposition itself is no PowerPoint presentations. Instead SETAF offers focused discussions from technical experts all designed to help attendees return to their programme better equipped to advance your dismounted infantryman's future capability.
3) UNRIVALED SPEAKERS LINE UP: With top-ranking military officers representing 10 nations and leading soldier programmes experts all under one roof, this is the event attendees cannot afford to miss. SMi's expert speaker line up 2016 includes key decision makers from the military sector (US Army, DSTL (UK), British Army, German Army, Swedish Armed Forces, Ministry of Defence (Netherlands)) and the industry sector (BAE Systems, Sagem, Rheinmetall Electronics, Thales) and many more.
4) 17 UNIQUE DISCUSSIONS GROUPS: Join SMi in London as they ask questions such as: How can the soldier have the most effective equipment that is as light as possible, is protective and has sustainable power? Where is the trade-off between weight reduction, sustainability and soldier system effectiveness? How to effectively deliver data to the dismounted soldier for increased situational awareness and decisive decision making? How to enhance dismounted operations through the use of robotics? What are the latest night vision technologies available to the dismounted soldier? And so much more! 2-day event programme includes 17 unique discussions. Visit http://www.setaf.org/prweb to download.
5) OVER 20 HOURS OF INFORMAL NETWORKING: more than at any other soldier system meeting in 2016! Confirmed attendees include representatives from Ministry of Defence Singapore, Thales Norway, Bundeswehr, Ultra Electronics, MOD Abbeywood, Otis Technology, Bren-Tronics, Royal Military Academy Sandhurst, Fokker Special Products, and many more. Unique opportunities for discussion, including 2 morning coffee breaks, 2 networking lunches and 2 afternoon tea sessions. Make new contacts and form the relationships you can count on in the future. Visit http://www.setaf.org/prweb to register.
Don't forget to attend the post-conference workshop on 'Mastering Soldier Programme Management: Defining Requirements and Optimising Acquisitions' led by the conference chairman Colonel (ret) Richard Hansen from the US Army.
2nd annual Soldier Equipment and Technology Advancement Forum conference
14th – 15th March 2016
London, UK
Contact e-mail: iluft(at)smi-online(dot)co.uk
Contact number: Paul Deller on +44 (0) 207 827 6194
Event Website: http://www.setaf.org/prweb
------------------------- END --------------------------
About SMi Group:
Established since 1993, the SMi Group is a global event-production company that specializes in Business-to-Business Conferences, Workshops, Masterclasses and online Communities. We create and deliver events in the Defence, Security, Energy, Utilities, Finance and Pharmaceutical industries. We pride ourselves on having access to the worlds most forward thinking opinion leaders and visionaries, allowing us to bring our communities together to Learn, Engage, Share and Network. More information can be found at http://www.smi-online.co.uk