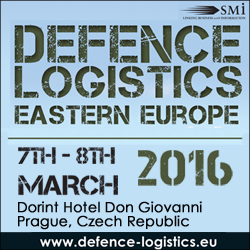 I believe Defence Logistics Eastern Europe is the perfectenvironment for this collaboration, hence lending my supportbehind it as chairman.
Prague (PRWEB UK) 17 February 2016
SMI Group Reports: NATO Secretary General Jens Stoltenberg said "We have tripled the size of the NATO Response Force to more than 40,000 troops, with the new Spearhead Force at its core. And we have activated six small headquarters in our eastern Allies, and are setting up two more,"
With the latest updates, SMi Group is proud to present the exclusive conference on Defence Logistics Eastern Europe (7-8 March 2016, Prague), gathering some of the leading regional and international military representatives within the defence logistics community including NATO, Belgium, Canada, Croatia, Czech Republic, Hungary, Norway, Poland, UK and many more. To view the preliminary list of attendees please visit http://www.defence-logistics.eu/prweb
With all the chiefs of logistics from around Eastern Europe in attendance, discussing these challenges, can you afford not to be there?
5 Key Benefits of Attending This Conference:
1.) The Czech Ministry of Defence is in full support of the event with Brigadier General Jaromir Zuna, Director Support Division, confirmed as chairman of the event - Read the Letter of Invitation here http://www.defence-logistics.eu/prweb
2.) 9 General Officers confirmed making this the most senior and focused logistics meeting in the region that will discuss the challenges of modernising the logistics forces through international cooperation and procurement, while at the same time going through extensive budget reforms.
3.) Dedicated focus on logistics training, modernisation programs and operational experience support combat forces - View the latest agenda here http://www.defence-logistics.eu/prweb
4.) High ranking speakers from across Eastern Europe talking about operational experience, current and future capabilities, new projects and how they are overcoming budgetary challenges
5.) Official Partnership with DSIA - meaning attendees will be able to meet and partner with local industry
Join SMi in Prague and meet the one who are shaping and influencing Defence Logistics programs today!
Defence Logistics Eastern Europe
7th – 8th March 2016
London, UK
Contact e-mail: iluft(at)smi-online(dot)co(dot)uk
Contact number: Paul Deller on +44 (0) 207 827 6194
Event Website: http://www.defence-logistics.eu/prweb
About SMi Group:
Established since 1993, the SMi Group is a global event-production company that specializes in Business-to-Business Conferences, Workshops, Masterclasses and online Communities. We create and deliver events in the Defence, Security, Energy, Utilities, Finance and Pharmaceutical industries. We pride ourselves on having access to the worlds most forward thinking opinion leaders and visionaries, allowing us to bring our communities together to Learn, Engage, Share and Network. More information can be found at http://www.smi-online.co.uk