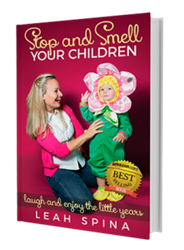 Young children are one of life's greatest gifts.
(PRWEB) February 17, 2016
Reviews are in for Leah Spina's book, "Stop & Smell Your Children" and they are nothing short of stellar! In the month of November, Ms. Spina's book made its way through the iRead Book Tours circuit, where it received multiple reviews, praising Spina for her wit, honesty, and passion for parenting.
"I feel like so many books on parenting are just a bunch of steps you should take to make awesome kids. But this book? IT IS NOT THAT! – Leah is a real mom. She is in the trenches like me raising her babies and she shares that depth!" says Leslie Morgan, of 'Did YOU Hear about the Morgans'
Beginning on November 9th, 2015 and ending on January 7th of 2016, 'Stop & Smell Your Children' made its way through 11 different stops. During these stops Leah received 10 reviews, partook in two author interviews, provided two author guest posts, and participated in seven book giveaways.
The stops on Ms. Spina's tour included:
Library of Clean Reads
Sahar's Blog
Working Mommy Journal
A Mama's Corner of the World
Collecting Moments
Experiencing Parenthood
Everyday Gyaan
alwaysjoart
Did YOU Hear About the Morgans?
Manic Mommy of Two
Deal Sharing Aunt
To learn more the iRead Book Tours, or to check out all of Leah's stops be sure to visit http://www.ireadbooktours.com/
About Ms. Spina:
Leah Spina is a former journalist of a national news magazine turned stay-at-home mother of three children, age five and under. She graduated from Thomas Edison State College with a B.S. in Business Administration and World Journalism Institute, and also worked at the Gladney Center for Adoption as a Childbirth Coordinator. Leah resides in the Dallas/Fort Worth, Texas area with her husband, David, and their three children: Samson, Esther and Hannah.