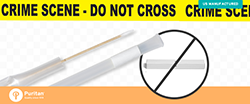 Puritan's forensic swabs offer optimal sample collection and transportation, while ensuring clean and accurate sampling every time.
Guilford, Maine (PRWEB) February 18, 2016
Puritan is excited to attend the AAFS 68th Annual Scientific Meeting in Las Vegas February 22-27! Presented by the American Academy of Forensic Sciences (AAFS), this year's annual meeting is focusing on the theme Transformation: Embracing Change. Over the past year there has been so much change in technology that has transformed forensic science.
The event gathers together approximately 5,000 world-renowned forensic professionals to present the most current information, research, and updates of this ever-changing profession. Puritan is one of the 180 exhibitors that will be present to showcase our technology and specimen collection devices to the industry.
This year attendees should visit Puritan's booth #302 to get a closer look at our popular and constantly evolving forensics product line. On display will be a variety of swab configurations featuring Puritan's DNA Controlled, DNA-free, Cap-Shure™, flocked swabs, and Popule® product lines.
In order to preview what Puritan has to offer before the show, check out our DNA Evidence Collection Flowchart for more details about Puritan's award winning forensic products.
About Puritan
Puritan Medical Products Co., LLC, is an American company known worldwide as the trusted manufacturer of single-use products for the healthcare, diagnostic, forensic, critical environment, food safety, and drug manufacturing industries. Puritan manufactures all of its flocked swab products in their Guilford, ME, U.S. facility.
For More Information Contact
Timothy Templet
Executive VP of Global Sales
tltemplet(at)puritanmedproducts.com
+1.207.876.3311