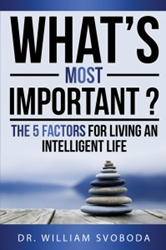 Look for what you have left and don't dwell on what you have lost. What you have left is what you can use.
(PRWEB) February 16, 2016
"Let's start a revolution. I want to start a revolution. I need to start a revolution. I don't mean an armed rebellion against the government or other forms of authority. I mean an intellectual and behavioral revolution that questions the status quo at every level and then makes changes based on that which anyone deliberately determines to be most important." These are the words of Dr. William S. Svoboda, and he invites readers of his new book, 'What's Most Important?' to join his revolution that will, literally, change their lives.
By having the reader ask themselves, 'What's Most Important?' they will take the first steps in challenging and changing their thinking and behavior. In his new book, Svoboda guides readers though the process of determining their values and priorities in life by analyzing five key factors.
Factor 1: Gaining and Maintaining Physical Health
Factor 2: Gaining and Maintaining Mental Health
Factor 3: Gaining and Maintaining Financial Security
Factor 4: Mastering and Using Problem-Solving and Critical-Thinking Skills
Factor 5: Acting Responsibility to Others, the Environment, and Yourself.
Svoboda believes that these factors are key to living a well-rounded, satisfying, and focused life.
For anyone looking to join Dr. Svoboda, and countless others, in starting a new revolution, feel free to purchase the book through any of these fine retailers:Amazon, Barnes and Nobel, and Reader's Legacy.
Dr. Bill Svoboda:
Bill Svoboda started his education in a one-room school in southern Missouri. He earned bachelor's, master's and doctorate degrees from the University of Kansas. Bill was a junior high school teacher in Kansas City and in San Juan, Puerto Rico. He has taught in higher education at the University of Kansas; University of Missouri; University of Puerto Rico; Morogoro College of National Education in Tanzania, Africa; Arizona State University Main Campus and Arizona State University West Campus. He has consulted with and spoken to hundreds of profit and non-profit organizations.