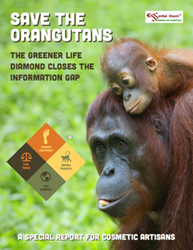 Revolutionizing the cosmetic labeling system, the Greener Life Diamond(tm) gives the consumer a blueprint for ethical consumerism.
Sebring, FL (PRWEB) February 16, 2016
Essential Depot announced today the Greener Life Diamond™ with its initial release of an extensive white paper at http://www.essentialdepot.com/GreenerLifeDiamond.pdf
The Revolutionary Essential Depot (RED) Greener Life Diamond™ will allow Essential Depot and its customers to differentiate their products and clearly show with one glance at the product label the Greener Life credentials of their products. The Greener Life Diamond™ is a tool that consumers can use to evaluate four major aspects of health, social and environmental responsibility, at the point of purchase. With tiered ratings for Carbon Footprint, Animal Friendliness, Eco-Friendliness and Fair Trade Support, it allows both manufacturers and the end user to make purchasing decisions with confidence that the ingredients have been evaluated and rated with their concerns in mind.
The final version of the Essential Depot Greener Life Diamond™ white paper and the tools and resources to allow its customers to use this Greener Life Diamond™ symbol on their products will be released at the 19th Annual HSCG Conference, to be held May 19-21, 2016, at the Saddlebrook Resort, just outside Tampa, Florida.
Prior to the HSCG Conference in Tampa, Essential Depot is holding a two day "Greener Life Diamond™ Workshop" in Sebring, Florida on May 16 and 17th at Essential Depot's Wine Soap Bar in Sebring, Florida. For customers, suppliers and other key industry professionals, the workshop will fully brief them on all aspects of the Greener Life Diamond™ RED initiative. Videos of this event will subsequently be available to all at Fyi101.com. If you feel you would like to attend this "Greener Life Diamond Workshop" email susan(at)essentialdepot(dot)com
Essential Depot, Inc., is based in Sebring, Florida. A major supplier to the handcrafted soap and cosmetics, Essential Depot is dedicated to helping you start and grow your "Greener Life Business", by supplying the the best Soap and Cosmetic Making products and services.