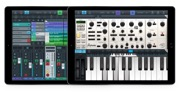 Hamburg, Germany (PRWEB) February 19, 2016
Steinberg Media Technologies GmbH today announced the immediate availability of Cubasis, the multitouch music sequencer app for the iPad.
Cubasis 1.9.8 features MIDI over Bluetooth LE for connecting MIDI controllers to Cubasis without the use of cables and at low latency. The second highlight is AU (Audio Unit) support, allowing for instruments and effects in AU format to be accessed directly from within Cubasis. The included MicroSonic workstation now features 28 additional brand-new instruments that deliver a wide range of fresh sounds, while the redesigned effects are now easier to control. To store projects and files, Cubasis now offers the possibility to do so via iCloud, external hard drive or a wireless flash drive.
Visit http://www.steinberg.net/cubasis for details on Cubasis.
Availability and pricing
Cubasis is available as download through the App Store and on offer for $24.99 from February 16 to March 1, 2016. The usual price is $49.99.
Features at a glance

Unlimited audio and MIDI tracks (depending on the device used)
24 assignable physical inputs and outputs
32-bit floating point audio engine
Audio I/O resolution of up to 24-bit/96 kHz
iOS 32 and 64-bit support (depending on the device used)
Micrologue virtual analog synthesizer with 50 ready-to-go presets
MicroSonic with over 100 virtual instrument sounds based on HALion Sonic and 16 Allen Morgan drum kits
MiniSampler to create your own instruments (includes 20 factory instruments)
Mixer with 15 revamped effect processors
Over 550 MIDI and audio loops
Virtual keyboard and virtual drum pads
Sample Editor and Key Editor with MIDI CC support
Automation, MIDI CC, program change and aftertouch support
Export to Cubase, iCloud Drive, external hard drives, wireless flash drives, Dropbox, SoundCloud, AudioCopy and email
Core Audio and Core MIDI compatible hardware supported
MIDI over Bluetooth LE support
Full Audio Unit, Inter-App Audio and Audiobus support to use compatible apps as insert/send effects and virtual instruments or simply record their audio output
Import audio from your iTunes music library or iCloud Drive or iTunes file sharing, use AudioPaste or set up a Wi-Fi server in Cubasis
Audio mixdown and MIDI export
MIDI clock and MIDI thru support
Press contact
Stefan Trowbridge
Public Relations Manager
Steinberg Media Technologies GmbH
E-mail: press(at)steinberg(dot)net
Phone: +49 40 210 35 0
About Steinberg Media Technologies GmbH
Steinberg is known the world over for its music and audio software and hardware solutions. The company has been developing, manufacturing and selling innovative products for musicians and producers in the music, film, post production and multimedia industries since 1984. Steinberg products are used by Grammy and Oscar award-winning composers, engineers and producers. The company also offers business customers license-management and copy-protection systems.
Visit http://www.steinberg.net for further details.