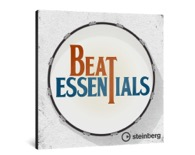 HAMBURG, Germany (PRWEB) February 16, 2016
Steinberg Media Technologies GmbH today announced the immediate availability of the Beat Essentials VST Sound Instrument Set.
Beat Essentials features new Styles that emphasize four-four grooves and perfectly capture the driving rhythm of beat music originating from the Great Britain of the 1960s.
Available for the Acoustic Agent drum kits of Steinberg's award-winning Groove Agent 4 drum software and the Groove Agent SE 4 plug-in included in latest versions of Cubase, Beat Essentials boasts ten Styles with different tempi and time signatures, and consists of a wide selection of intros, main grooves, fills and endings.
Matthias Quellmann, Senior Marketing Manager at Steinberg, commented: "Beat Essentials delivers what the name promises: ready-to-use grooves with focus on British beat music that should be part of every library collection."
Visit http://www.steinberg.net/beatessentials for details on Beat Essentials.
Availability and pricing
The VST Sound Instrument Set, Beat Essentials, is exclusively available through the Steinberg Online Shop for $24.99.
Key features

10 Beat Styles for the Acoustic Agent drum kits in Groove Agent 4 and Groove Agent SE 4
Each Style is featured in a VST preset and comes with a dedicated mixer setting
Grooves cover different tempi and time signatures and range from basic phrasings to complex syncopations
Each Style includes main parts, intros, endings and fills
An inexhaustible resource for creating backing tracks, inspiring new compositions and improvisation sessions
Press contact
Stefan Trowbridge
Public Relations Manager
Steinberg Media Technologies GmbH
E-mail: press(at)steinberg.net
Phone: +49 40 210 35 0
About Steinberg Media Technologies GmbH
Steinberg is known the world over for its music and audio software and hardware solutions. The company has been developing, manufacturing and selling innovative products for musicians and producers in the music, film, post production and multimedia industries since 1984. Steinberg products are used by Grammy and Oscar award-winning composers, engineers and producers. The company also offers business customers license-management and copy-protection systems.
Visit http://www.steinberg.net for further details.