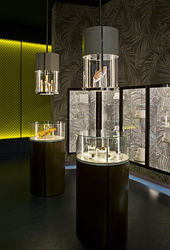 (PRWEB) February 17, 2016
Advanced Gourmet proudly announces that it has been selected by Nomastar, an affiliate of Ciam, to be their exclusive distributor in the USA. Based in Italy, Nomastar designs and manufactures innovative and beautiful display systems for food and drinks.
"Nomastar believes in the idea that drinking and eating must be a special experience. Our food and drink display systems will delight guests with a unique experience," says Nomastar General Manager, Lorenzo Lispi.
"Through innovative design and the use of high quality materials and finishes Nomastar's refrigerated cases display product in a new and beautifully elegant way. We are very excited to bring this unique concept to the United States," says Jim Hall, co-owner of Advanced Gourmet.
Nomastar currently offers three products, the Isolabella, the Bellagio and the Panarea.
Isolabella - Freestanding refrigerated displays with a top that raises electronically. Beautifully-illuminated with LED lighting and customizable with special features and desired logo. Pre-installed casters allow the display to be easily moved to any area of the store or restaurant.
Bellagio – Refrigerated displays that come in three models – floor, table top and ceiling. This case displays product while illuminating its host space with LED lights both inside and on the bottom of the case.
Panarea – A built-in refrigerator for beverage, caviar, oyster, champagne. Refrigerated up to 0°, Panarea has an integrated led ligthing system and can be used also as a free-standing floor refrigerated.
About Advanced Gourmet Displays
Advanced Gourmet is proud to be the exclusive marketer and distribution partner of the Nomastar and Ciam brands for the United States. It is also the the official US design center for Ciam. With this distinction, Advanced Gourmet offers their clients the most complete line of showcases in the industry for any foodservice need. All the European-styled display cases are custom-made in Italy with full customization options and US approval/voltages already in place. With 15 different series and every foodservice category available there is something for any project. Advanced Gourmet can also assist by supplying consultation, CAD blocks and specs for your drawing as well as installation and after sales service.
http://www.AdvancedGourmetDisplays.com
About Advanced Gourmet
Advanced Gourmet was founded and is led by three foodservice equipment industry innovators, Jim Hall, Jim Marmion and Wally Becker with a primary goal of providing the most advanced equipment solutions and services for the professional kitchen and specialized applications throughout the United States. Advanced Gourmet is the exclusive importer and distributor for Nomastar, Ciam, Pacojet, Hotmix, Techfrost and Cattabriga within the USA.
This founding team served in executive and managerial positions with well-known manufacturers of equipment designed for the food service industry and the modern kitchen. Their vast experience creates the foundation for their passion to provide expert guidance, high quality products, and superior, high quality support to all their clients.
Serving as the exclusive importer of fine brands like Nomastar and Ciam, Advanced Gourmet has built the most prestigious line of specialty kitchen equipment available in the USA.
http://www.AdvancedGourmet.com
About Nomastar
Nomastar, an affiliate of Ciam, designs and manufactures innovative and surprising display systems for food and drinks. Utilizing light and motion, these displays help create a unique and delightful guest experience.