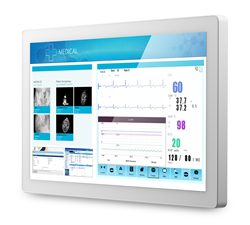 View our latest medical panel PCs and I/O expansion cards in Booth 11432 at HiMSS 2016, March 1 – 4, at Sands Expo Center in Las Vegas, Nevada.
San Jose, CA (PRWEB) February 17, 2016
ADLINK Technology, a leading global provider of cloud-based services, intelligent gateways and embedded building blocks for edge devices that enable the Internet of Things (IoT), invites attendees to view our latest medical panel PCs and I/O expansion cards in Booth 11432 at HiMSS 2016, March 1 – 4, at Sands Expo Center in Las Vegas, Nevada.
ADLINK will demonstrate our latest high performance medical panel PC series with medical cart and mounting options from partner GCX Solutions. Our MLC series of industrial medical panel PCs are designed with fully-sealed aluminum housing and no grooves or joins to facilitate easy cleaning with standard disinfecting agents. The MLC series is IP65 rated, has IEC/EN60601-1 and IEC/EN60601-1-2 medical certifications, and offers electromagnetic emission shielding, preventing interference with nearby sensitive equipment and allowing the PCs to be safely used in close proximity to patients.
Our panel PCs meet the needs of a wide variety of clinical environments and provide convenient data input via multi-touch screen, as well as additional functionality with optional RFID, 2D-imager, Bluetooth, Wi-Fi, and camera, allowing the systems to meet current and future needs of the medical environment.
ADLINK will also be showing a variety of I/O card options, including video/audio capture cards, frame grabbers, and combined functionality frame grabber / video capture card, to enhance standard computing solutions.
For more information on ADLINK's embedded computer boards and systems utilized in a variety of medical applications, please visit http://www.adlinktech.com/Medical/
For more information on HiMSS 2016 or to register for an expo pass, please visit http://www.himssconference.org/registration/pricing
About ADLINK
ADLINK Technology is enabling the Internet of Things (IoT) with innovative embedded computing solutions for edge devices, intelligent gateways and cloud services. ADLINK's products are application-ready for industrial automation, communications, medical, defense, transportation, and infotainment industries. Our product range includes motherboards, blades, chassis, modules, and systems based on industry standard form factors, as well as an extensive line of test & measurement products and smart touch computers, displays and handhelds that support the global transition to always connected systems. Many products are Extreme Rugged, supporting extended temperature ranges, shock and vibration.
ADLINK is a Premier Member of the Intel® Internet of Things Solutions Alliance and is active in several standards organizations, including PCI Industrial Computer Manufacturers Group (PICMG), PXI Systems Alliance (PXISA), and Standardization Group for Embedded Technologies (SGeT).
ADLINK is a global company with headquarters in Taiwan and manufacturing in Taiwan and China; R&D and integration in Taiwan, China, the US, and Germany; and an extensive network of worldwide sales and support offices. ADLINK is ISO-9001, ISO-14001, ISO-13485 and TL9000 certified and is publicly traded on the TAIEX Taiwan Stock Exchange (stock code: 6166).
# # #
All trademarks are the property of their respective owners in the U.S. and other countries.