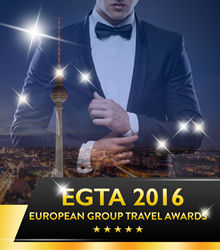 2015 was an exciting year in European group travel and EGTA will honor individuals and suppliers who are true innovators in the industry
London, England (PRWEB) February 17, 2016
The European Group Travel Awards (EGTA), being held on Thursday, March 10th at the prestigious Intercontinental Berlin will recognize the finest suppliers in the group travel industry.
Vote for your favorite group travel organizations and individuals at http://europeangrouptravelawards.com, the deadline to vote is Wednesday, February 24th. Click on the "Vote Now!" link featured on the site's homepage to submit an entry. There are 20 outstanding award categories recognizing the best operators that deliver the highest quality of group travel experiences ranging from hotels to cruise lines, city destinations, and more.
Dylan Ratigan, Television news journalist for CNBC, former MSNBC television host, and New York Times Best-Selling Author, will host the night's festivities. Guests will be entertained by "Stars in Concert" a top international act in Berlin with music provided by Berlin Club Scene DJ Benjamin Fröhlich.
"2015 was an exciting year in European group travel and EGTA will honor individuals and suppliers who are true innovators in the industry," said Tim Hentschel, CEO of HotelPlanner.com. "As a provider of online services to the global group hotel market, we are looking forward to honoring the industry during this event."
Sponsorship for the event is also being provided by leading hotel companies such as: Best Western, Choice Hotels International, and Wyndham Hotel Group, among the 22 sponsors this year who are proud supporters of the group travel industry.
The EGTA winners will be announced on-stage at the awards. HotelPlanner.com, the leading international group specialist and Landor Travel Publications are excited to celebrate what makes group travel memorable, and recognizing the top leaders in this field.
About HotelPlanner
HotelPlanner.com provides online services to the global group hotel market. The company's service ensures the lowest rates by allowing customers to receive quotes online directly from hotel group sales managers. HotelPlanner allows customers to book hotels for business meetings, conferences, conventions, family reunions, weddings, extended stays, tours, military reunions, church events, and group travels. The company also provides mobile applications for booking group hotel reservations. The company owns and operates Meetings.com, a site that provides information and booking services for meeting and banquet venues around the world for corporate and association meeting planners. Founded in 2002, the company's USA headquarters is based in West Palm Beach, Florida. The company also has offices in Las Vegas, European headquarters in London, United Kingdom, and Asia headquarters in Hong Kong.
HotelPlanner.com is proud to provide hotel reservation services to the following valued clients within the sports team and university, corporate, and government organizations. The company's Pro Sports Team clients most notably include the San Diego Chargers, Washington Redskins, St. Louis Rams, Professional Bowlers Association, European Professional Golfers (EuroPro), Super League (Rugby), AFC Wimbledon, Millwall F.C., and Queens Park Rangers F.C. In terms of college travel, Universities such as Texas A&M, New Mexico State, Saint Mary's College, Bradley University, University of Reno-Nevada, University of Illinois-Chicago, Northeastern University, Cal Poly, and California State University Northridge use HotelPlanner to negotiate their group travel and recruiting stays. Corporations such as CROMPCO, Siemens, Jackson Motor Sports, National Grid, Chicago Bridge & Iron, Publix, and Servpro and Government clients such as the State of Louisiana, State of Mississippi, Government Services Agency, US Marines-Camp Le Jeune (Group), and US Communities also utilize HotelPlanner.com as their hotel procurement provider to negotiate hotel rates, book hotel reservations and provide excellent service year-round.
About Landor Travel Publications
Landor Travel Publications is the publisher of Group Travel Organiser magazine, the UK's first and leading publication exclusively addressing the needs of group travel organisers. GTO was first published in 1988 and over the past 19 years has brought a wealth of news, information and ideas for group trips to organisers all over Great Britain. The magazine is published ten times a year and mailed to 10,000 individuals, along with numerous supplements on particular countries, regions and subjects of interest to groups.
To find out more information about EGTA, please contact Bruce Rosenberg at (818) 661-0244 or via email at Bruce(dot)Rosenberg(at)hotelplanner(dot)com.