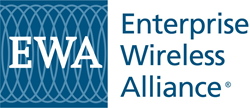 Herndon, Virginia (PRWEB) February 17, 2016
On February 12, 2016, the Enterprise Wireless Alliance asserted that when radio spectrum is shared between business/industrial/land transportation (B/ILT) and public safety entities, any FCC-certified frequency coordinator should be eligible to coordinate any application seeking use of the shared spectrum.
EWA President Mark Crosby made these comments in a letter to the Federal Communications Commission asking the FCC to clarify its rules regarding coordination of vehicular repeater and data telemetry systems. In a Public Notice released February 3, 2016, the FCC announced that VRS and data telemetry systems would share six frequencies in the 173 MHz band. The spectrum is shared by both system types and is "not allocated on a primary basis to either" business/industrial or public safety applicants.
"The same operational rules regarding permissible bandwidths, power levels, justification for additional channels, and acceptable areas of operation for VRS govern B/ILT and public safety operations. The consensus protocols for these channels are applied identically whether the applicant claims B/ILT or public safety eligibility. A B/ILT or public safety FAC, given the same information, should be expected to arrive at the identical frequency coordination outcome," wrote Crosby in his letter.
As precedent, Crosby pointed to the FCC's process for coordinating applications in the "Sprint-vacated" 800 MHz spectrum. This coordination process permits applicants to use either a B/ILT or public safety FAC and has been operating without incident since 2008.
About the Enterprise Wireless Alliance
EWA is an FCC-certified frequency advisory committee and leading advocate for business enterprises that rely on wireless communications systems. EWA provides its members and clients with license preparation, spectrum management and associated services. Membership in EWA is open to users of wireless communications systems, vendors, system operators and service organizations. EWA is the creator of Cevo®, a powerful frequency coordination portal, which includes the industry's first mobile app for frequency inquiries. Additional information about membership and services is available at http://www.enterprisewireless.org.