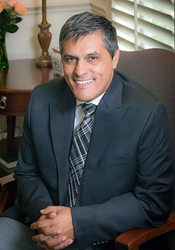 Allen, TX (PRWEB) February 16, 2016
Gum disease in Allen, TX, is a common problem, and Dr. Marco Cueva seeks to minimize its occurrence by raising awareness to the condition during Gum Disease Awareness Month. Patients who have lost teeth due to advanced periodontal disease are encouraged to have their missing teeth replaced with dental implants from Dr. Cueva's practice.
There are many different causes of tooth loss, but the most common is untreated gum disease. Dr. Cueva encourages patients who currently suffer from gum disease in Allen, TX, to put greater emphasis on their oral health during Gum Disease Awareness Month. Those who have already lost one or more teeth from the condition may be good candidates for dental implants, which are a comfortable and natural-looking alternative to traditional dentures. Dr. Cueva places implants in the mouth by using local anesthesia and conscious sedation, if needed, to make the patient comfortable. He then inserts a titanium implant into the jawbone beneath the area where the missing tooth once was. A temporary crown may be placed on top of the implant while the area heals and the implant fuses to the bone.
After the implant site has completely healed, Dr. Cueva uncovers the implant. The patient's general dentist attaches an abutment and a porcelain crown on top. The crown is carefully and personally designed to match the appearance and color of the patient's surrounding teeth. In most cases, it is difficult to recognize the difference between the patient's natural teeth and their implants because of how similar they are. After the crown has been successfully attached to the top of the implant and the area has had a chance to heal completely, the new tooth will reliably function just like a natural tooth.
Patients with missing teeth due to gum disease in Allen, TX, are encouraged to find out if dental implants are the right choice for them during Gum Disease Awareness Month. Appointments can be scheduled during business hours by calling Dr. Cueva's practice at (972) 704-1101.
About the Doctor
Periodontic Excellence is a periodontal practice offering personalized dental care for patients in Allen, TX. Dr. Marco Cueva is a Board Certified Periodontist and has extensive education in periodontology and dental implantology. He attended the Federal University of Parana where he received his Doctor of Dental Surgery Degree, and completed three additional years of training at Camillo Castelo Branco University, before training at Baylor College of Dentistry. Dr. Cueva also earned his Masters of Science Degree in Oral Biology with a certification in Periodontics from Texas A&M University Health Science Center- Baylor College of Dentistry. Dr. Cueva offers a variety of services, specializing in dental implants, All-on-4® and the minimally invasive Chao Pinhole® Surgical Technique for treating receding gums. To learn more about the services offered at Periodontic Excellence, please visit the website at http://www.perioexcellence.com or call (972) 704-1101 to schedule an appointment.