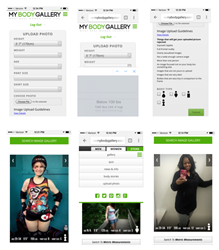 More conveniently review and upload inspirational images!
(PRWEB) February 18, 2016
Body-positivity website MyBodyGallery.com has launched a new responsive-design version of our website for our mobile-device users. Community members, especially those with smart phones, can now more easily browse and contribute their pictures to our gallery of images that enable people to see what they really look like, rather than a view distorted by unhealthy messages from advertising and the media. Nearly 30,000 images have been uploaded since the site launched in 2010. Our community of almost 62,000 registered users can now more conveniently review inspirational images and add to our ever-growing collection of diverse pictures.
As always, users have the option of anomyzing their images to protect their privacy. All of the usual website features, such as our popular Body Stories series and the "Guess the Weight" quiz are accessible from mobile devices. If users prefer the desktop view, they can select that at the bottom of the page. One helpful addition to the revamped website is a short list of guidelines for image approvals integrated into the uploader tool.
By enabling people to objectively see what real bodies look like, MyBodyGallery.com promotes body positivity, nurtures acceptance of the fact that we are all beautiful, and offers community. Through browsing images of "real bodies" crowdsourced by everyday people, visitors to the website can help heal the damage caused to body image by media perpetuations of body shapes and sizes that are unrealistic for most people.