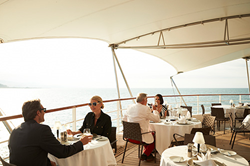 Seattle, WA (PRWEB) February 17, 2016
Windstar Cruises, a fleet of small luxury cruise ships, announces today the line-up of James Beard-recognized chefs preparing to set sail on the "James Beard Foundation Collection" of culinary-focused cruises. Windstar recently partnered with the James Beard Foundation to provide guests with an elevated culinary experience aboard three separate European cruises destined for Spain, Morocco, and France.
This bespoke portfolio of sailings, scheduled to disembark in the spring and summer of 2016, are aimed at food and wine enthusiasts who are seeking to fully immerse themselves in the culture of each destination and experience the tastes and flavors of the regional cuisine. Each sailing in the James Beard Foundation Collection features a James Beard chef, working alongside Windstar's culinary team and acting as an onboard culinary ambassador offering cooking demonstrations, a nightly featured dish, and one-on-one interaction.
The following is the chef line-up for the 2016 James Beard Foundation Collection by Windstar:
James Beard Foundation Culinary Cruise of Southern Spain & Morocco
This 8-day voyage aboard Wind Surf sails from Lisbon to Barcelona, docking in Tangier, Morocco before sailing in Spain with stops in Málaga, Almeria, Cartagena, Ibiza, and Tarragona.
Date: April 24, 2016
Chef Michel Nischan: Founder and CEO of Wholesome Wave; three-time James Beard Foundation Award winner.
Cuisine: Chef Michel Nischan's commitment to working closely with farmers and artisans of sustainable products, they will be on display as he guides guests on a journey through Spain and Morocco's vibrant culinary culture. Incorporating authentic, local ingredients, he will lead two cooking demonstrations, create a nightly dish, and lead guests on an onshore culinary outing.
James Beard Foundation Culinary Cruise of Spain & France
This 10-day voyage aboard Star Legend sails from Lisbon to Dublin in June and from Dublin to Lisbon in August, stopping in St.-Malo, La Rochelle, and Bordeaux (overnight) in France; Gijon and El Ferrol in Spain; and Porto in Portugal.
Date: June 10, 2016
Chef Maria Hines: Owner and Executive Chef of Seattle Tilth; winner of 2009 James Beard Foundation Award: Best Chef Northwest.
Date: August 9, 2016
Chefs Matt & Kate Jennings: Owners and Chefs of Townsman; Matt and Kate are four-time James Beard Foundation Award nominees for Best Chef: Northeast.
Cuisine: Seafood from Galicia, sweet port in Porto, cognac in La Rochelle, and world-famous wines in Bordeaux are a few gastronomic stars of the journey. Chefs Hines and Jennings will provide two cooking demonstrations on board, a nightly featured dish, and a trip to a local market or hosted culinary outing.
For more information, including rates and itineraries, contact a travel professional or call Windstar at 800.258.7245, or visit http://www.windstarcruises.com.
About Windstar Cruises
Windstar Cruises operates a fleet of small luxury cruise ships known for its intimate yacht style experience and unique voyages to the world's best small ports and hidden harbors. Its three recently renovated sailing yachts carry just 148 to 310 guests and cruise to 50 nations, calling at 150 ports throughout Europe, the South Pacific, the Caribbean, and Central America. In May 2014, Star Pride, the first of three newly acquired power yachts, joined the fleet. In May 2015 the company launched Star Breeze and Star Legend. The power yachts, with a capacity of 212 guests each, double the size of Windstar's fleet, making the company the market leader in small ship cruising with 300 or fewer passengers, with a total of 1,242 berths. Windstar Cruises is a part of Xanterra Parks & Resorts®, which is known for its "Legendary Hospitality with a Softer Footprint." Xanterra's entities include lodges, restaurants, tours and activities in national and state parks, as well as resorts, a cruise line, railway and tour companies.
About the James Beard Foundation (JBF):
Founded in 1986, the James Beard Foundation celebrates, nurtures, and honors America's diverse culinary heritage through programs that educate and inspire. A cookbook author and teacher with an encyclopedic knowledge about food, the late James Beard was a champion of American cuisine. He helped educate and mentor generations of professional chefs and food enthusiasts, instilling in them the value of wholesome, healthful, and delicious food. Today JBF continues in the same spirit by administering a number of diverse programs that include educational initiatives, food industry awards, scholarships for culinary students, publications, chef advocacy training, and thought-leader convening. The Foundation also maintains the historic James Beard House in New York City's Greenwich Village as a "performance space" for visiting chefs. For more information, please visit jamesbeard.org. Get food news, recipes, and more at the James Beard Foundation's blog. Follow the James Beard Foundation on Facebook, Twitter and Instagram.