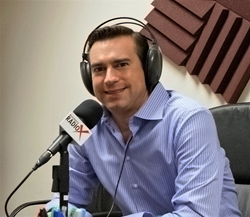 Discussions are sure to be lively, insightful if not contentious at times
PORTLAND, Maine (PRWEB) February 17, 2016
Healthcare IT News, a HIMSS Media brand and the industry's authoritative source for health IT decision-makers, and acclaimed HIT advisor Justin Barnes, just launched This Just In @HIMSS, a groundbreaking radio event featuring select VIP guests broadcast live at HIMSS16.
This Just In @HIMSS, sponsored by Citrix and Lenovo, is hosted by Justin Barnes, Founder of the weekly syndicated radio show This Just In. The premier HIMSS16 radio show will feature live interviews on the show floor with some of healthcare's most acclaimed CIOs, CEOs, policy leaders and entrepreneurs. Watch and tune in to industry leaders tackling the biggest challenges and opportunities in health IT. This Just In @HIMSS kicks off at the HIMSS Media Booth #951, March 1-2 from 1:30-5 p.m. at the Sands Expo and Convention Center in Las Vegas.
"I'm very excited to have the This Just In radio show partner with HIMSS and to be able to broadcast live from HIMSS16 in Las Vegas with so many friends and peers," said Justin Barnes, HIT advisor and host of This Just In @HIMSS. "Our guest line-up is unparalleled, as we'll have the industry's leading executives, innovators, stakeholders and policymakers sharing actionable intelligence on how health systems, care providers and even patients can successfully navigate the future of healthcare."
"You can say we're guilty of big-time name dropping about first-of-its-kind radio program This Just In @HIMSS: Aneesh Chopra, Farzad Mostashari, John Halamka, Ed Marx — and those are just a few of the industry luminaries you can hear from live at the conference. Not to mention host Justin Barnes," said Tom Sullivan, Editor-in-Chief of Healthcare IT News. "The thought leadership discussions are sure to be lively, insightful if not contentious at times and, perhaps best of all, a lot of fun to listen to."
Featured Guests:

Jitin Asnaani, MBA, Executive Director, Commonwealth Health Alliance
Aneesh Chopra, Co-Founder, EVP Hunch Analytics; Former U.S. CTO, NavHealth
Dr. Karen DeSalvo, MD, Acting Assistant Secretary for Health, U.S. Department of Health and Human Services
Dr. John Halamka, MD, CIO Beth Israel Deaconess Medical Center
Gareth Hall, Director of Worldwide Health Mobility of Microsoft
H. Stephen Lieber, President and CEO of HIMSS
Ed Marx, Executive Vice President of The Advisory Board/Clinovations
Dr. Farzad Mostashari, MD, CEO, Aledade, Inc.
Sarah Muckler, Director, Worldwide Health Marketing, Health Industry, Microsoft
Ivo Nelson, CEO and Chairman of Next Wave Health
Ben Wilson, MBA, MPH, Senior Director Healthcare Strategy, Citrix Systems; Co-Founder, Mobile Health Consortium
Mariann Yeager, MBA, CEO The Sequoia Project
About Healthcare IT News
Healthcare IT News, a HIMSS Media publication, is the industry's authoritative source covering the people, policy and technology driving next-generation healthcare in the U.S. For more than 12 years, it has been the leading voice of health IT, delivering strong and unbiased editorial insights on compelling topics such as electronic health records, health information exchange, privacy and security, data analytics, patient engagement, population health and revenue cycle management. Healthcare IT News' audience spans across all media platforms and reaches some 54,100 qualified print subscribers and has more than 240,600 readers for print and digital products. For more information, visit HealthcareITNews.com.
About This Just In
This Just In is a weekly syndicated radio show that focuses on the latest trends impacting our nation's healthcare, economy, innovation and opportunity. The host, Justin Barnes, aka @HITAdvisor, is an entrepreneur and corporate advisor. He's a former executive with Greenway Health, McKesson and most recently, an entrepreneur-in-residence at Georgia Tech's Advanced Technology Development Center. Whether it's a trending topic or the "next big thing," Justin is sure to be talking about it with his broad circle of peers.
You can listen to This Just In on the Business Radio X network (ThisJustIn.BusinessRadioX.com) and the Healthcare Now Radio network (HealthcareNowRadio.com/Programs/This-Just-In).
ABOUT HIMSS MEDIA
HIMSS Media is the fastest growing B2B media group focused exclusively on healthcare and technology markets. Through its suite of market-leading brands, such as Healthcare IT News, Healthcare Finance and MobiHealthNews, HIMSS Media delivers news, analysis and must-have information to an audience of senior healthcare and technology influencers. HIMSS Media is also the leading producer of important live events, such as the Privacy & Security Forum, Patient Engagement Summit, Revenue Cycle Solutions Summit and Big Data & Healthcare Analytics Forum.