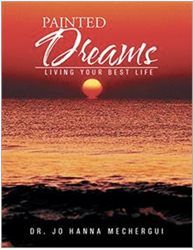 All things are possible with prayer. My book provides stories that will strengthen reader's spirits
EWA BEACH, Hawaii (PRWEB) February 17, 2016
With Oprah Winfrey's past conversations on beliefs and spirituality, Dr. Jo Hanna Mechergui became inspired to personally share her own spiritual journey with bigger audiences. In her new book "Painted Dreams," Dr. Mechergui explores topics on prayer, spirituality, meditation, and ultimately – dedicates her book to Oprah's impact on her life.
In "Painted Dreams," Dr. Mechergui's shares views and personal stories from her own life that she hopes will impact others. With her book being so diverse on many topics, "Painted Dreams" was written to give readers the tools that they need to reach their highest potential.
"My book has given color to my prayer life and a profound peace of mind, along with confidence and courage that I hope readers can engage in too," Dr. Mechergui said.
As Oprah has guided Dr. Mechergui on her spiritual journey, she hopes that "Painted Dreams" will do the same for others.
"All things are possible with prayer. My book provides stories that will strengthen reader's spirits," Mechergui said.
By reading "Painted Dreams," individuals will feel encouraged to dig deep in their souls and grasp their highest potential. Everyone deserves to live their best life possible and "Painted Dreams" will push readers to achieve that.
"Painted Dreams"
By: Dr. Jo Hanna Mechergui
ISBN: 2015905225
Available in softcover, hardcover, e-book
Available on Amazon, Barnes & Noble and Xlibris
About the author
Dr. Jo Hanna Mechergui has held many roles in education and social work for various colleges across the United States. She holds a bachelor's degree from Shaw College, a master's degree from Marygrove College, and her doctorate from Northwestern International University. Along with writing her book "Painted Dreams," to inspire other's spiritual journeys, Mechergui worked as a project manager for the State of Hawaii Department of Health.
# # #
For review copies or interview requests, contact:
Katie Wenclewicz
317.602.7137
kwenclewicz(at)bohlsengroup(dot)com