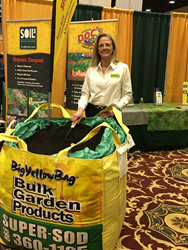 Ross has been in the green industry for 20 years
Atlanta, Georgia (PRWEB) March 26, 2016
This winter, Ross Davies was promoted to Outside Sales Representative for Super-Sod's Atlanta stores. She joins Julia Speir in their outside sales and customer service team.
No stranger to the green industry, Ross spent the last five years as a member of the Super-Sod family and, as the leader in Soil3 compost sales for three years running, she has been one of Super-Sod's outstanding sales persons. Previously she served Super-Sod's Gwinnett County market, but with her promotion she will serve the greater Atlanta region not only as a sales representative, but also providing onsite consultations and customer support for homeowners and landscapers. She will still be based out of the Gwinnett store and can be seen visiting customers in her yellow Super-Sod truck and running the booth at home and garden shows around the Atlanta area.
Soil3 organic compost is one of the many products Ross can be called on for expert advice. She also represents Super-Sod's turfgrass brands Zenith, Leisure Time, and Emerald Zoysias, TifGrand and TifTuf Bermudas, TifBlair Centipede, Elite Tall Fescue, and supporting products: Drivable Grass permeable pavers, turfgrass seed, stone, pine straw, mulch, and many other landscaping supplies.
Ross has been in the green industry for 20 years after graduating from Central Piedmont Community College in Charlotte, NC with a degree in Horticulture and Design. Her interest in plants inspired her to take a few classes at the College and those classes enabled her to make a career change from real estate to professional plants person. Outside of Super-Sod, Ross is an avid gardener and also spends free time flyfishing or knitting. She and Bill, her husband of 32 years, live in Peachtree Corners with their Australian Blue Heeler (Cattle Dog), Jerry Lee, and their two cats, Mao and Nikko.
Super-Sod is a family-run business that employs experts in turf and horticulture. Focusing their sod and compost business in the Southeast, they sell sod by the individual roll, full pallet, or truckload. It's available for delivery or pick-up fresh from their farms to landscapers and directly to DIY homeowners. One of their most popular products has been their OMRI Listed Soil3 organic compost, delivered in a cubic yard BigYellowBag, which they make partially from composted grass clippings from their sod production. Super-Sod continues to develop new garden products, foster gardening and landscaping, and always seeks to improve their farming practices, technology, environmental stewardship, and employee knowledge.