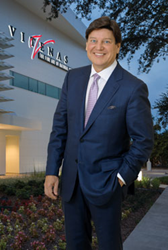 (PRWEB) February 17, 2016
Vitenas Cosmetic Surgery is elated to be named as one of 2016's Spectrum Award winners by City Beat News (CBN). Paul Vitenas, Jr., M.D., F.A.C.S. is pleased to share this honor with his exceptional staff of nurses, aestheticians, and patient coordinators.
CBN is one of the most respected research and publishing companies in the United States. Their primary focus is identifying outstanding small to mid-size companies across the country, using a variety of sources, rankings, and assessments. CBN is not a customer review site, and they are known for only nominating those businesses with the top ratings in their specialized field of service.
The Spectrum Award for Excellence is unique in that it reflects overall customer satisfaction, without bias. The information presented by CBN is then available as a tool to assist potential clients in choosing a trusted business in the future. Additionally, the Spectrum Award tells employees that they are doing a good job, and empowers them to continue the hard work.
As the newest winner of the Spectrum Award for Excellence, Vitenas Cosmetic Surgery brings patients a cutting-edge array of innovative surgical procedures. Dr. Vitenas specializes in breast augmentation, facial rejuvenation, and body sculpting techniques, such as the body lift and Mommy Makeover. Mirror Mirror Beauty Boutique, also managed by Dr. Vitenas, offers an equally vast variety of noninvasive techniques.
The cornerstone of Vitenas Cosmetic Surgery's success is patient satisfaction. The staff diligently works to provide a safe, supportive environment, where customers consistently receive natural-looking results. Dr. Vitenas explains, "I invite everyone to view our Before/After pictures and look at our body of work, as it speaks volumes for itself. Read the reviews, and get a sense for yourself of the kind of practice we have, who we are, what we are about, and how we might fit for you."
Dr. Paul Vitenas is Board Certified by the American Board of Plastic Surgery. He has been serving the Houston area for more than 25 years. The founder of Vitenas Cosmetic Surgery, Dr. Vitenas' stays active in the local community, supporting a variety of nonprofit groups including SillyBox and the Houston United Way.
If you would like to schedule a complimentary consultation with Dr. Paul Vitenas, please contact Vitenas Cosmetic Surgery at 281.484.0088. For more information on the City Beat News' Spectrum Award for Excellence, go to http://citybeatnews.com/about-the-spectrum-award.
Contact:
Vitenas Cosmetic Surgery
4208 Richmond Avenue
Houston, Texas 77027
281.484.0088
http://www.drvitenas.com