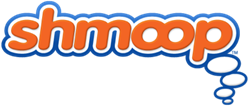 Not only is the material humorous, but Shmoop teaches in a way that is easy to understand and relate to.
Mountain View, California (PRWEB) February 18, 2016
With multiple SAT® exam dates looming over the next few months, students and educators alike are starting to sweat. And not the in-love-and-feeling-it kind of sweat; more like the there's-an-impending-zombie-attack kind of sweat. The SAT exam was recently redesigned, and everyone's freaking out a little.
That's why Shmoop (http://www.shmoop.com), a digital publishing company known for its award-winning test prep and certified online courses, is providing a full suite of prep products to make sure everyone's ready for game time. Shmoop has a proven track record of increasing student engagement and scores. How? By dropping more pop culture references than a CW show and using humor to teach difficult concepts. And the numbers don't lie: among other success stories, Indio High School in Indio, California saw a whopping 119.6 average increase in SAT score after implementing Shmoop.
Shmoop's student guide to the new SAT is the one-stop shop for all studying needs. Students can start by taking a diagnostic exam, which will tell them exactly what they need to work on before tackling the relevant review and hundreds of practice drills. Once they feel confident with their skills, students have the opportunity to test themselves with four full-length practice exams. All that, plus special tips and tricks for test-day, access to infinite math drills with Math Shack, and Spanish translations for English Language Learners. If students prefer their studying a bit more structured, Shmoop's new SAT Crash Course features a series of lessons perfect for cram time. And to prep for the optional essay section, students can choose a prompt and walk through the writing process with Shmoop's SAT Essay Lab. Because practices makes perfect.
Of course, students aren't the only ones dealing with the SAT. Teachers, too, are under pressure for their students to do well. Shmoop's updated SAT teacher guide includes scripted SAT lessons that won't make students snooze, handouts keyed exactly to the material being covered, and a course planner that suggests 4- and 14-week schedules. Goodbye late-night lesson planning; hello normal sleeping schedule.
In a survey, one 12th grader wrote that Shmoop's SAT prep "motivated me more than other test prep would." He continued: "Not only is the material humorous, but Shmoop teaches in a way that is easy to understand and relate to." Alert the press: with Shmoop, students actually like studying for standardized tests.
Individuals and small groups of students and teachers who want to get their crammy hands on Shmoop's SAT prep can subscribe to Shmoop for one low monthly or bi-monthly price. Teachers and admins looking for bulk discounts for schools or districts can email sales(at)shmoop(dot)com for a quote.
About Shmoop
Shmoop offers hundreds of thousands of pages of original content. Their Online Courses, Test Prep, Teaching Guides, Learning Guides, and interactive Study Tools are written by teachers and experts and balance a teen-friendly, approachable style with academically rigorous concepts. Shmoop sees 13 million unique visitors a month across desktop and mobile. The company has won numerous awards from EdTech Digest, Tech & Learning, and the Association of Educational Publishers. Launched in 2008, Shmoop makes the magic happen from a labradoodle-patrolled office in Mountain View, California.
SAT is a registered trademark of the College Board, which was not involved in the production of, and does not endorse, this product.