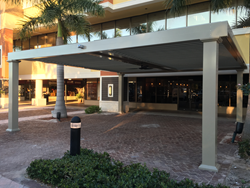 The Equinox Louvered Roof system takes style to a new level, while incorporating solar, and motorized operation to adjust cover level at any time
Pembroke Pines, Florida (PRWEB) February 18, 2016
Alumicenter Inc. proudly announces the recent signing of a partnership with Equinox Louvered Roof. Serving the South Florida area since 2004, this Aluminum Specialty contractor specializes in the manufacturing and installation of patio enclosures, screen rooms, sun rooms, hurricane protection, and louvered roofs. The new partnership has already resulted in the launch of a new generation of motorized roof systems designed to improve the living space for residential homes, resorts, and restaurants.
Equinox Louvered Roof is the premier supplier of exclusive shade structures for luxury residential and architectural design applications. The company is a brand of Euramax International, Inc., a global producer of architectural copper, metal roofing and cladding, patio structures, roof and lawn drainage, snow retention, windows and transportation products. With the signing of the recent partnership, Alumicenter Inc. has now become the exclusive dealer of the Equinox louvered roof system in Miami-Dade, Broward and Palm Beach County.
With changing times, outdoor dining has become extremely popular these days. However, harsh weather conditions like the sun and rain makes it difficult for the restaurant owners to utilize their available outdoor space for this purpose. Alumicenter claims that their new adjustable roof cover can solve this problem with the push of a button. As a result, it allows restaurants to increase their sitting capacity. Equinox louvered roof system can also help resort owners make the best utilization of their outdoor space without spending a fortune. Similarly, these roof systems can be used by the homeowners to utilize their available outdoor space for outdoor parties, family gatherings, and social events.
The advanced roof systems introduced by Alumicenter Inc. can be considered to be the next-generation of cover patios that can be opened and closed effortlessly with the help of a remote control. The system is solar powered, and are available in many different style options. Alumicenter mentions that this highly sophisticated product is the result of a combination of aesthetic options, precision engineering, and quality elements. To ensure peace of mind for the customers, this one of its kind product has already received the NOA, or product approval to comply with existing Florida building codes.
Talking about these state-of- the- art motorized pergola systems, the Project Manager of Alumicenter Inc. Juan Cohen stated, "The Equinox Louvered Roof system takes style to a new level, while incorporating solar, and motorized operation to adjust cover level at any time. Screens can be added as desired, while customizable wrap-around, brick, and steel columns provide strength, sustainability and class that blends with the most fashionable architectural designs."
About Alumicenter Inc.: Alumicenter Inc is an Aluminum Specialty contractor that has been serving the south Florida area since 2004. During this time, they have had the opportunity to build many projects and create long-lasting relationships with customers. Since their inception, the company has been committed to provide all their customers the best options available with regards to design, budget and construction.