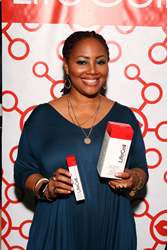 Los Angeles, CA (PRWEB) February 16, 2016
GBK, the luxury lifestyle gift lounge and special events company, honored the 2016 GRAMMY Awards Nominees and Presenters with a luxury gift and style lounge on February 14th, featuring unique gifts in an exciting atmosphere – steps away from the award show venue. The event was hosted at Tom's Urban L.A. Live. A good time awaits you at Tom's Urban L.A. LIVE. The mix of epic cocktails and good eats infused with international flavors brings liveliness to any gathering.
The event not only showcased a variety of unique and well-known brands, but brought a charitable component to the event through some unique fundraising and brand awareness. GRAMMY Museum at L.A. Live was the event's beneficiary. The GRAMMY Museum is an educational and interactive music museum in downtown Los Angeles committed to engaging children and adults in the power of music through education programs, interactive exhibits, workshops and performances. They serve over 140,000 visitors every year from Los Angeles and beyond, including over 25,000 K-12 students who receive music education through their programs.
A variety of products and services in the fashion, beauty, electronics, destinations, and more filled the lounge. A true highlight was BoomCase, the event's Presenting Sponsor. BoomCase crafts handmade portable sound systems and they gifted certificates for a vintage suitcase BoomCase.
Other highlights included the luxurious destinations and experiences such as: Paséa Hotel & Spa – gifting the Nominees and Presenters a complimentary two night stay at Paséa Hotel & Spa plus dinner for two at Tanner's and one 50-minute signature couples massage at Aarna Spa; Toluca Lake Tennis and Fitness Club – gifting a VIP Club Pass for one week to the premiere tennis and fitness club in Los Angeles, and three personal training sessions with a TLTFC Club Trainer; and Belmond La Samanna, St. Martin – gifting Three nights in a stunning Ocean View Suite with daily breakfast for two.
On the fashion and beauty front, sponsors included: LifeCell – gifting their All-In-One Anti-Aging Treatment American Hat Makers – gifting Handmade leather hats made in California; Beija-Flor Jeans – gifting one pair of Beija-Flor's universally slimming jeans, designed to make women look and feel their best; Hale Bob – known for dressing modern, fashion-forward women in feminine, chic and distinctive clothing, gifting a variety of women's fashion items; JH Design Group – gifting official licensed custom jackets (NBA NFL MLB) as well as promoting their partnership with the charitable organization Unite4Good; gifts from Bopulent Jewelry – makers of handmade gemstone jewelry using 14kt gold, rose gold, platinum, silver and diamonds; Erika Walton jewelry - Hand made in the USA, limited addition, recycled and vintage toys mixed with crystals, glass, gemstones, vintage beads and other recycled pieces; DEIFIC – gifting GBK exclusive DEIFIC jewelry and accessories handcrafted by silver craftsman; and Haute™ Brush - The Haute Brush is a hair straightener that combines your traditional flat iron & brush, into one convenient ultimate beauty tool!
Some of the trend-setting and electronics products included: headphones from Audiopark, gifting their Audiowrap / Twistwrap; SWAGWAY - Called the "hottest gift on the planet" by Ellen on the Ellen Show, Swagway is only the original manufacturer of the "hands-free smart board"; gift certificates for Couch Potato, your premiere entertainment shop; and Activision, gifting Guitar Hero Live - a radically improved guitar controller, hundreds of songs and two brand new ways to play: GH Live, a first-person point of view where you play in front of real crowd that reacts to how you perform, and GHTV, the world's first playable music video network.
Sweets and treats provided by: Le Dome Champagne Truffles, gifting their Le Dome Champagne Truffle Corks - a life-sized, 3-D champagne truffle, shaped like a champagne cork, packaged in an authentic branded champagne capsule. They are made with French and Belgium chocolate and infused with the essence of French Champagne; Be Tini Spirts - Delicious premium prepared cocktails in 4 flavors: Cake, Lemon Drop, Appletini and Margarita; and Ike's Place - Award Winning Sandwiches for Meat Eaters, Vegetarians, Vegans, and Gluten Free Diets!
Finally, guests were treated to gift certificates for world-class mobile detailing by NoStreaks Detail.
# # #
For Press Inquiries: Robyn Santiago - Robyn(at)illuminationpr(dot)com
ABOUT GBK:
GBK, formerly GBK Productions, is a luxury lifestyle gifting and special events company, specializing in entertainment marketing integration. Formed in 2000 by Gavin Keilly, the company's Founder and CEO, GBK consists of five divisions: GBK Celebrity Gifting, GBK Special Events, GBK Weddings, GBK Charitable Consulting and GBK Marketing/Public Relations. Widely known in the entertainment industry for bringing that little extra something into the Gifting Lounge environment, GBK offers its clients a full range of marketing services. For more information on Gavin B. Keilly (CEO), Carla Domen (VP) or GBK, please go to gbkproductions.com.