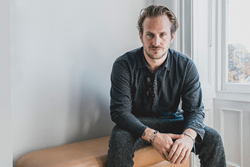 The Robert Geller guy doesn't want to look like he's trying too hard, but he definitely wants to be the best dressed guy in the room.
Los Angeles, California (PRWEB) February 17, 2016
Five Four has announced its second major collaboration with celebrated New York designer, Robert Geller. The announcement was revealed after Geller's Fall 2016 presentation for men's New York Fashion Week, where WWD stated that Geller "...cemented his position as one of the frontrunners of the New York men's designers." The limited-edition Five Four + Robert Geller capsule collection contains 45 pieces, which will be expertly curated for Five Four Club members. Each member can expect to receive two pieces in their monthly style package based on their preferences.
CEO and co-founder Andres Izquieta had this to say about the announcement, "I am thrilled to share the Five Four + Robert Geller collection with our members. I've followed Geller's work for many years, so when this partnership came to fruition, I knew he would design a modern yet approachable collection that speaks to our member's lifestyles. This is going to fly out the door."
When asked about why he did a collaboration with Five Four, Geller stated his desire to dress the modern American man who may not have access to his eponymous collection. The ability to reach and style a sizable audience, which is currently unrivaled by any competitors in the digital space, was appealing and presented an exciting challenge for the designer. He states, "The Robert Geller guy doesn't want to look like he's trying too hard, but he definitely wants to be the best dressed guy in the room."
For the Five Four + Robert Geller collection, Geller referenced a desire to capture a moment in time - inspiration was served as a mixture of nostalgia with respect to classic movie stars from the fifties such as James Dean, known for looking effortlessly cool while containing an air of mystery. Geller also drew on nostalgia and his love for Los Angeles, a city where he grew up during his formative years. The collection that emerged is modern and approachable with neutral colorways and classic pieces every man should have in their roster. A minimalist color-blocking motif can be seen on select pieces, and the collection features expert detailing brought in from Robert Geller's high-end line.
The capsule collection will be available for Five Four Club members on March 1, 2016, and is already generating buzz.
____
About Five Four
Five Four is a contemporary menswear brand crafting fashion-forward styles for the modern man. Pioneering in the subscription service market for menswear, Five Four is the market leader utilizing a unique 360° approach to directly deliver exclusive designs to its customer base. Each package is expertly curated based on chosen style preferences, and shipped to members on a monthly basis.
Founded in 2002, the Los Angeles-based brand is the brainchild of founders Andres Izquieta and Dee Murthy. The founders launched the brand as a reflection of their lifestyles paying homage to their West Coast roots.
Visit Five Four to learn more, and take the style profile quiz.
____
About Robert Geller
Robert Geller is a celebrated menswear fashion designer who has garnered a cult following, especially for his Robert Geller Second label, a cut and sew collection designed to be an elegant interpretation of classic athletic wear.
He launched his career at Marc Jacobs in 2001 upon graduating from RISD. He then joined forces with patternmaker Alexandre Plokhov to revamp the New York based brand, Cloak. Cloak gained acclaim and won a prestigious grant from the Vogue/CFDA fashion fund in 2004. In 2007, Geller launched his eponymous brand, which secured several prestigious awards including the CFDA's "Swarovski Award for Menswear" in June 2011. Geller recently launched a denim collection in 2015, and continues to collaborate with interesting brands each season.