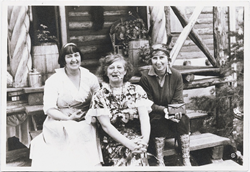 The whole world comes to Mabel - Georgia O'Keeffe
Taos, New Mexico (PRWEB) February 18, 2016
Walk in the footsteps of Georgia O'Keeffe, D.H. Lawrence and Ansel Adams to experience the unique and stunning New Mexico that inspired their work. The Harwood Museum of Art is pleased to present a unique Art Getaway that will provide a look into the life of Mabel Dodge Luhan, the woman who brought these artists and many others to Taos. Luhan is arguably one of the 20th century's most influential characters who had a significant impact on collectors with relation to Native and Hispano artists, the causes she celebrated (women's rights, free love), and the gathering of some of the country's biggest minds, artists, and authors (Freud, Martha Graham, Willa Cather) at her home in Taos.
The itinerary is designed to bring the best of lodging, art and dining in Santa Fe and Taos to those seeking a cultural experience and includes suggested, a la carte options that are discounted using the code MABEL when making reservations or purchasing tickets. The package offers are valid from May 22 – September 11, 2016 and is centered on the Harwood Museum's major exhibition Mabel Dodge Luhan & Company: American Moderns and the West.
Inn and Spa at Loretto:
One of Santa Fe's most iconic downtown hotel properties and the most photographed buildings in the state of New Mexico, the Inn and Spa at Loretto boasts luxury rooms, a famed spa and casual fine dining in Luminaria Restaurant, helmed by Food Network's Cutthroat Kitchen runner up Chef Marc Quinones. Just one block from the historic Santa Fe Plaza, Palace of the Governors and Canyon Road arts district, the Loretto is known for its Art and Soul of Santa Fe tours and local artists featuring their work in their Artist in Residence program. Room rates are available starting at just $149/night, and are bookable via phone through the reservations office (866-582-1646) or by visiting their website, and referencing promo code: MABEL. The following link will also provide direct accessibility to the Mabel Dodge Luhan Exhibition Package promotional rate: https://gc.synxis.com/rez.aspx?Hotel=19510&Chain=5156&promo=MABEL.
ELOISA:
Famed Chef John Rivera Sedlar took cues from his great aunt, Geronima, one of the chefs that put food on O'Keeffe's own table for over a decade. In tribute to this aunt and his grandmother, ELOISA, as well as the other strong women in his life that taught him his way around a kitchen, Sedlar has developed a new O'Keeffe's Table a tasting menu that pays tribute to one of America's greatest artists. A 10% discount will be given using promo code MABEL when ordering The O'Keeffe Table (http://www.eloisasantafe.com).
Ghost Ranch:
Tour the landscape of Ghost Ranch by motorbus and see through your own eyes the scenes and actual locations of Georgia O'Keeffe's paintings interwoven with stories of her fifty years at Ghost Ranch.
Cost: $34 per person; A 10% discount will be given using the code MABEL when making an online reservation. Tour availability and other information along with reservations can be made at https://www.ghostranch.org/visit/tours/.
El Monte Sagrado Resort and Spa or Palacio de Marquesa Boutique B&B:
These two Heritage Hotel Properties feature a package designed for travelers to experience Mabel Dodge Luhan & Company: American Moderns and the West, an exhibition opening in Taos at the Harwood Museum this May.
The Mabel Dodge Luhan Exhibition Package includes: Luxury artist-themed guestroom accommodations, 2 tickets to the Harwood Museum of Art to see the exhibition, postcards and note cards from the Harwood Museum, custom breakfast for two each morning of your stay, local Treasures 15% discount card, complimentary Wi- Fi and complimentary parking.
For the Monte Sagrado call 575-758-3502 or visit http://www.elmontesagrado.com/mabel-dodge-luhan-co-harwood-exhibition-package, for Palacio de Marquesa call 575-758-4777 or visit http://www.hhandr.com/taos-mabel-dodge-luhan-exhibition. Reference promo code MABEL.
Package Policies: Rates are based on availability and subject to change. Blackout dates may exist. Cannot be combined with any other discount or promotion. Other restrictions may apply.
Mabel Dodge Luhan & Company: American Moderns and the West:
The exhibition runs in Taos from May 22 – September 11, 2016. It will then travel to The Albuquerque Museum of Art and History from October 29, 2016 – January 22, 2017, and then to the Burchfield Penney Art Center in Buffalo, NY from March 10 – May 28, 2017.
For more information, please visit http://www.mabeldodgeluhan.org. The link also leads to information on a rare opportunity to stay at the historic Mabel Dodge Luhan home.
Other places to visit while in Santa Fe:
The Georgia O'Keeffe Museum:
A visit to Santa Fe wouldn't be complete without a visit to this iconic, single-artist museum, which recently opened A Great American Artist. A Great American Story featuring a new series of galleries organized by theme to offer a deeper understanding of O'Keeffe's art, life, and times. http://www.okeeffemuseum.org *
*Discount does not apply at GOKM.
###
ABOUT THE HARWOOD MUSEUM OF ART: The Harwood Museum of Art was formed in 1923 by Lucy Harwood and members of the Taos Society of Artists and is the second oldest museum in New Mexico. Affiliated with the University of New Mexico since 1935, the Harwood houses the internationally acclaimed Agnes Martin Gallery, galleries exhibiting highlights from the Museum's collection of work by the Taos Society of Artists, Taos Moderns, Hispanic Traditions, contemporary artists working in Taos, and changing exhibitions that fulfill the Harwood's vision to "Bring Taos Arts to the World and World Arts to Taos." For additional information, please visit HarwoodMuseum.org.