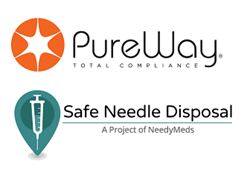 Every year, approximately 9 million Americans throw their used needles in the trash or flush them down the toilet, due to [...] poorly publicized disposal alternatives for at-home sharps users
Katy, TX (PRWEB) February 23, 2016
PureWay, a health-focused provider of medical waste management and compliance solutions, is proud to partner with Safe Needle Disposal, a project of the national non-profit organization NeedyMeds which is dedicated to educating the public about safe needle disposal programs. Through this partnership, not only will at-home users of sharps have access to informational resources and regulatory experts to help answer any compliance-related questions, but they will also be able to responsibly and affordably dispose of used needles using new PureWay® Sharps Disposal Systems.
Every year, approximately 9 million Americans throw their used needles in the trash or flush them down the toilet, due to two main problems: a lack of transparent and consistent federal regulations as well as poorly publicized disposal alternatives for at-home users. Unfortunately, this is a serious public health issue, since anyone who is punctured by an improperly disposed needle could potentially develop life-threatening bloodborne diseases such as Hepatitis B, Hepatitis C and HIV/AIDS.
"At PureWay, we believe that education is the most effective way to prevent sharps-related injuries. With the rise of diabetes and the public's growing concerns around HIV, there is no better time to partner with Safe Needle Disposal," said PureWay COO, Jeff Miglicco. "In addition, we designed our easy-to-use Sharps Disposal Systems with self-injectors in mind. Our containers are 20% larger than the industry standard and come with a prepaid return shipping box, pre-filled manifest and auto-reorder options to save users time and money."
Through its partnership with Safe Needle Disposal, PureWay continues to stay true to its mission of protecting humans and the environment alike from the dangers associated with improper healthcare waste disposal. Sharps users can learn more or place an order by contacting PureWay toll-free at 877-765-3030 or online at http://www.PureWay.com.
About PureWay:
PureWay offers healthcare providers, business organizations and individuals a unique combination of quality products, compelling prices and personalized service, to make total compliance easy. From convenient waste management services to site-specific OSHA compliance and infection control training, PureWay provides comprehensive and fully customized programs to give clients peace of mind, no matter what their waste needs may be.
# # #