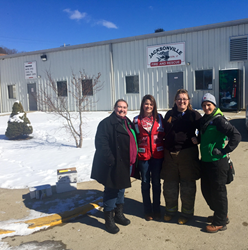 (PRWEB) March 02, 2016
ECO Disaster Services, Central Ohio's No. 1 Ranked fire and water damage restoration services provider, is proud to reaffirm its ongoing commitment to community-wide fire safety with its continued partnership with the American Red Cross Home Fire Preparedness Campaign. More than simply a fire response company, ECO continues to foster local partnerships in an effort to arm the community with house fire prevention knowledge and tools.
"It has been impressive the effort they have put forth for the safety and protection of our citizens. We have called on them not only for emergencies but also for educational purposes. Many may see it as a business friendship but to us our family got bigger. Thank you for your support to our cause which is protection and life safety," says Chief Wisor of Jacksonville Fire and Rescue about teaming up with ECO Disaster Services.
Through ECO Disaster Services' "Ready When the Times Comes" partnership with the American Red Cross, all ECO employees have become Red Cross Volunteers. Through this partnership, ECO is taking part in a nationwide Home Fire Preparedness Campaign at a local level. Launched by the National Red Cross in October 2014, the campaign aims to reduce the number of home fire deaths and injuries by as much as 25 percent over a five year period. As part of Red Cross' campaign, ECO is joining forces with local fire departments, community groups, and other local businesses to canvass neighborhoods, teaching people about fire safety, and installing free smoke alarms in high-risk areas. During each Home Fire Preparedness Campaign event, volunteers and community partners mobilize, going door to door offering complimentary smoke alarm installations and fire safety and prevention tips.
"We have installed almost 800 smoke alarms in Athens County since July. We have had great success with our volunteers and firefighters, but Jacksonville was the topper for the year. The Jacksonville Fire & Rescue Dept, ECO and Ohio University's USAF ROTC Cadets helped us break all of our previous records for alarm installations. The preparations of the Jacksonville Firefighters were what made this a really big day. This will make a big difference in fire safety in Jacksonville and Trimble," mentions John Eckelberry, the Red Cross' Lead Home Fire Preparedness Volunteer for Athens's County.
On Saturday, February 13, ECO participated in the most successful Home Fire Preparedness Campaign event that they have been a part of yet. Together with Jacksonville Fire and Rescue, Ohio University's U.S. Air Force ROTC, The American Red Cross of Southeast Ohio and elected officials of the Jacksonville Community, 32 total volunteers installed 247 smoke alarms throughout Jacksonville, Ohio.
"It was great teaming up with the American Red Cross and ECO Disaster Services during the smoke detector drive. It was great seeing so many people from different agencies come together with one purpose and that was to protect the citizens of the village of Jacksonville and the village of Trimble. Being nominated for the American Red Cross 2016 Home Town Heroes Award was an absolute honor. It was wonderful having the support of the American Red Cross, ECO Disaster Services, and the citizens we protect. Our goal since day one has always been the absolute protection and safety of those we serve. We will always go above and beyond to protect those we serve. We will always be there no matter what. As the chief I'm very proud to serve with all my men and women. It's the undying effort given by my assistant chief, captains, lieutenants and firefighters that make us who we are," replies Chief Wisor when asked about the event.
Teams also tested existing smoke alarms and replaced batteries when necessary. Each household was provided with fire safety information and an interactive dry erase board to draw a fire escape plan. In a further effort to save lives, families were also encouraged to practice their escape plans and determine a central outdoor meeting spot for emergencies.
Any individuals that were not home during the event were left with fire safety information and The American Red Cross Ohio Buckeye Region's toll free number (1-844-207-4509) to schedule an installation appointment.
Since July 2015, ECO Disaster Services has participated in eight American Red Cross Home Fire Preparedness Campaign events in more than six counties in Ohio.
"We are truly excited that we can provide a critical educational resource to our local fire departments, The American Red Cross' Community Preparedness Education Program, and local schools," says Christina Dew of ECO Disaster Services.
ECO is looking forward to 2016, as its calendar is already filling up with participation in fairs, festivals, fire department open houses and event during Fire Safety Month.
About ECO Disaster Services
Based in Columbus, Ohio, ECO Disaster Services is built on providing emergency response 24 hours a day, 7 days a week, 365 days a year, with unmatched service and customer care. Its team members dedicate themselves to responding to residential and business fires and water damage, as well as providing structural board ups and fire damage cleanup. Above all, the female-owned company prioritizes people before profit — a mission it aims to demonstrate through educational programs, complimentary preventative resources and free structural board ups for those without insurance. For more information, please visit http://www.eco-disaster-services.com.