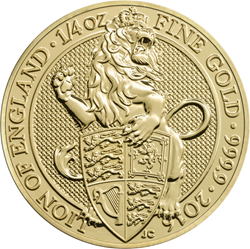 Los Angeles, CA (PRWEB) February 18, 2016
Wholesale Direct Metals has been chosen by The Royal British Mint – the oldest, most reputable, and esteemed mint in the world – to be the exclusive North American distributor for the 2016 Royal British Lion gold & silver coins.
In order to maintain the integrity and exclusivity of the most sought-after gold and silver asset of 2016, the Royal British Mint has chosen to distribute the Gold British Lion and Silver British Lion exclusively through Wholesale Direct Metals. Neither the Gold British Lion coin nor the Silver British Lion coin will be available at any retailer nationwide.
The stunning 2 oz. Royal British Lion silver coin is the first official 2 oz. silver coin produced by The Royal Mint and is guaranteed for .9999 purity. At a full 2 ounces, the British Lion Silver coin has 100% more silver than American silver proofs.
The regal 1/4 oz. Royal British Lion gold coin is also guaranteed by the British government for .9999 purity.
The obverse of both coins features the image of Queen Elizabeth II by Royal Mint Coin Designer Jody Clark. The reverse features the rampant lion fiercely guarding the heraldic shield that is so integral to the Royal British mint's history.
Damon Geller, CEO of Wholesale Direct Metals, discussed the unique advantages of the Royal British Lion gold and silver coins at the launch of the new coins in Los Angeles. "Both the Royal British Lion Gold and Royal British Lion Silver offer many advantages to anyone looking to protect their savings and retirement with gold and silver. These coins are exclusive, limited, semi-numismatic, have .9999 purity, maintain perfect white-glove mint condition, are eligible for IRAs, and are exclusive to Wholesale Direct Metals."
The Royal British Lion gold and silver coins are the first in a series of ten designs that will celebrate each of The Queen's Beasts. Wholesale Direct Metals is set to be the exclusive North American distributor for each of these Royal British Mint coins.
About Wholesale Direct Metals
Wholesale Direct Metals, Inc. is a volume precious metals dealer specializing in exclusive issue "private" coins. Wholesale Direct Metals has developed relationships with global mints to offer inventory to the general investing public others cannot. Wholesale Direct Metals also offers a complete product line of traditional investment metals, as well as services for IRAs, private vaulting and storage. Wholesale Direct Metal's main objective is to create an avenue through which the household-investing public can access the advantages of Wholesale Direct Metals' pricing model. Wholesale Direct Metals advances its mission to help investors protect their wealth, build a measure of stability into their portfolios in an unstable economic time, and ultimately, help empower people to manage their wealth in a way that helps them feel more secure. Wholesale Direct Metals enjoys an A+ rating with the Better Business Bureau and five star ratings from consumer review sites such as Trustlink, BBB and Angie's List. Visit WholesaleDirectMetals.com or call (866) 873-1445.