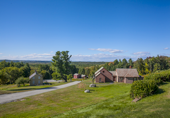 Boston, MA (PRWEB) February 17, 2016
The Trustees today announced plans to integrate Fruitlands Museum into the Trustees as one of its reservations. The boards of both organizations recently voted to approve the integration which would make Fruitlands Museum a part of The Trustees, a statewide organization, founded in 1891 to save and share places of exceptional natural, cultural, and ecological significance. The agreement provides stronger financial stability to the Museum for its long-term growth and expansion. The two organizations will begin an operational integration over the coming year which should be complete by 2017.
Fruitlands Museum is a nonprofit that cares for a 210-acre historic, natural, and cultural destination based in Harvard, MA. Founded in 1914, the site features three separate museum collections of significant Shaker, Native American, and American art and artifacts, as well as a historic farmhouse that was once home to the family of Louisa May Alcott and is recognized as a National Historic Landmark. The property features two miles of recreational trails that traverse vast acreage contiguous to the critical Oxbow National Wildlife Refuge.
The Trustees, celebrating its 125th Anniversary this May, preserves 114 properties across Massachusetts, six of which are National Landmarks including The Old Manse in Concord, another home to an American literary family of the same period as the Alcotts–the Emersons. The Manse was also home to fellow Transcendentalist Nathaniel Hawthorne for a period.
"We are honored about the possibility of welcoming Fruitlands Museum into The Trustees family," says Barbara Erickson, Trustees' President and CEO. "We care for special places forever so we don't enter into these kinds of agreements lightly. The connection between Fruitlands Museum and other Trustees properties, both in geography and cultural significance, provides a synergy that we hope will ultimately bring more people to love, to know about and to cherish this iconic place."
Upon integration, Fruitlands Museum, which is visited by over 20,000 annually, will join The Trustees statewide network of scenic, cultural, agricultural and natural properties as its 115th reservation. The Trustees properties welcomed over 1.6 million visitors in 2015, making it the largest nonprofit in the state by number of visits.
"Fruitlands Museum with its scenic natural landscapes, rich cultural resources, and talented staff complement the Trustees' other properties in this area especially the Old Manse, our center for transcendental history and culture," adds Joanna Ballantine, Trustees' Regional Director for The Trustees. "Fruitlands Museum is recognized regionally for its art collections, stories, and dynamic programs. We look forward to sharing this important site with an even broader audience."
"Fruitlands Museum and The Trustees' missions are so well aligned in our desire to build connections between nature, art, and culture among people of all ages and to provide opportunities for lifelong learning and engagement," says Fruitlands Museum Board Chair Marie LeBlanc. "We are confident that The Trustees will provide the platform Fruitlands Museum needs to continue to grow, care for, and share its important legacy and collections for many years to come."
During its 125th Anniversary this year, The Trustees will present a series of events and programs designed to inspire more people to get to know the organization, experience its properties in a different light, and gain a deeper appreciation for its mission. The celebration will also highlight the contributions of many forward-thinking leaders and generous donors who have helped The Trustees acquire, protect, maintain and preserve its collection of properties – old and new – for current and future generations to enjoy.
More about The Trustees
The Trustees protect and care for 114 of Massachusetts' natural, scenic, and cultural sites for the public to use and enjoy. Our passion is to engage more people in culture, agriculture, nature, and healthy, active lifestyles, using our diverse properties, our community spaces, and our many programs as a powerful and compelling platform to connect people to places and each other in our increasingly digitized world. Celebrating our 125th Anniversary in May 2016, we are world's first land preservation nonprofit founded in 1891 and the Commonwealth's largest conservation and preservation organization. We believe in protecting the irreplaceable for everyone, forever.
Trustees' properties span more than 26,000 acres– from working farms, landscaped and urban gardens, and community parks, to barrier beaches, forests, campgrounds, inns and historic sites, many of which are National Historic Landmarks. Located within minutes of every resident, they represent a preserved 300-year timeline of architecture, designed and natural landscapes, arts and artifacts, and fascinating stories of their former inhabitants, many of whom are deeply rooted in our local, state, and national histories. In addition to our properties, we are also a founding partner of the Boston Public Market, the first all locally-sourced indoor market of its kind in the nation where we operate our Appleton Farms vendor booth and are the programming partner for the Market's demonstration KITCHEN. Funded by our nearly 125,000 members and supporters and 1.2 million visitors, we invite you to get out, get inspired, and find magic in the moment at a Trustees property near you: http://www.thetrustees.org.
More about Fruitlands Museum
In 1914, Clara Endicott Sears' dream of preserving part of New England's rich cultural history became a reality. Sears, a wealthy Bostonian purchased a farm that was once the site of Bronson Alcott's utopian family farming experiment, known as Fruitlands. Over three decades, Fruitlands Museum grew to include dynamic Native American art and artifacts, a Shaker collection, as well as a museum of over 100 American vernacular portraits and esteemed Hudson River School artist landscapes. Her vision was it would be a place for inspiration - to educate the public about 19th century utopian ideas and how these ideas influence culture on the present. More than 100 years later, Fruitlands Museum is committed to this philosophy and serves thousands of adults, families and students with place-based educational programming, events, lectures, exhibits and seasonal concerts, activities, and festivals each year. The property is also popular destination for private events including weddings, retreats, corporate social functions and more. Visit http://www.fruitlands.org for more information.