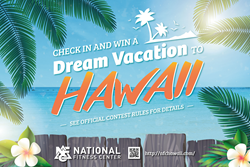 Knoxville, TN (PRWEB) February 17, 2016
National Fitness Centers, a top provider of gyms and health clubs throughout Tennessee, is excited to announce a "Check-in and Win" contest offering members the chance to win a dream vacation just for staying in great shape! One gym member and a guest will win an amazing trip to the tropical paradise of Hawaii.
The contest rules are simple.
During a designated 90-day period, gym members must check-in 20 times on Facebook at any National Fitness Center location to qualify for a chance to win the trip. There are many benefits to this contest; it not only motivates gym members to visit more often to qualify, but the added visits also help members work toward their fitness goals.
"We believe that this once-in-a-lifetime grand prize is something that sets the National Fitness Centers apart from any others health clubs in Tennessee," says Lee Sloan, president, National Fitness Center. "When combined with our top rated facilities, it is no wonder that members – as well as those looking to get into great shape -- are so excited."
A trip to Hawaii is a great idea after the winter just experienced in Knoxville, and Honolulu has some of the best sightseeing in the world. Adventurers can visit Diamond Head, a volcano with great hiking, or go zip lining through amazing forests. For beach lovers, Waikiki Beach offers great surfing and paddle boarding.
With some of the best services and amenities in the area, the National Fitness Center offers convenient locations in Knoxville, Maryville, Morristown, Oak Ridge, and Sevierville. Programs include group classes, functional training, free weights, cardio training, indoor track and more. For more information about our signature club in Knoxville, visit http://www.nfcgymsknoxvillewest.com/.
For more information about all of our NFC locations, visit http://nfc1.com/.