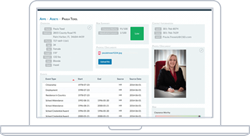 As a premier cyber analytics company, not only in Northern Virginia but in the country, we believe it's critical to our continued success to partner with, support and mentor fellow cyber startups in Mach37™
McLean, VA and San Francisco, CA (PRWEB) February 22, 2016
Haystax Technology, a leading provider of advanced cyber analytics solutions, announced today it will sponsor the Mach37™ Launch Lounge at RSA 2016 at the Minna Gallery in San Francisco, CA on March 3, 2016. The Launch Lounge will feature food and drinks, along with exciting cybersecurity panels and the opportunity to network with Mach37™ members and several hundred thought leaders in cybersecurity who will convene to share new ideas and ways to transform the industry. Haystax CEO Bryan Ware serves as a Star Mentor to Mach37™, and has been a long-time supporter of the intensive 90-day program created to launch cyber startups and help Virginia become the cybersecurity capital of the world.
Ware will also be a featured moderator at the Mach37™ Launch Lounge, joining Rami Essaid, Co-Founder & CEO, Distil Networks, Chris Wysopal, Co-Founder & CTO, Veracode and Michael Shinn, Co-Founder & CEO, Atomicorp for a panel, "The Enterprise View of Web Application Security: It Isn't About Your Website." Ware and the other moderators will lead a discussion on whether or not enterprise application security needs to draw more from the cloud and analytics.
"As a premier cyber analytics company, not only in Northern Virginia but in the country, we believe it's critical to our continued success to partner with, support and mentor fellow cyber startups in Mach37™," said Bryan Ware, CEO, Haystax Technology. "We're looking forward to kicking off this partnership with Mach37™ during Haystax's first time at RSA."
Haystax, a McLean, Va. based cyber analytics solutions company, has been a part of the Virginia cybersecurity corridor since its inception in 2012, having pioneered cyber analytics with its Constellation Analytics Platform. Haystax plans to continue its rapid expansion in cybersecurity, leveraging Constellation's ability to prioritize high volumes of information to better anticipate and respond to any type of threat pertaining to cybersecurity, public safety, school safety and enterprise threat intelligence.
Haystax's Constellation Analytics Platform enables the monitoring of large streams of real-time data to find threat-related information relevant to a specific context and area of concern. It provides actionable intelligence for decision makers and makes it easy to see how people, places and organizations are connected in the cyber world. The platform is relied upon by a wide array of private and public sector organizations including clients from commercial, defense, intelligence, federal, state and local public safety planning operations, school districts and major urban areas risk management agencies.
Major Haystax clients include Microsoft, the Bill and Melinda Gates Foundation, the Department of Homeland Security, the State of California, New Jersey State Police, Florida Department of Education and several state and local education districts. Constellation has been used to protect high profile events including the last seven Super Bowls; Chicago, Los Angeles, and Boston Marathons; the San Francisco Bay to Breakers; the Indianapolis 500; the US Open; America's Cup; the Emmys; and Academy Awards.
About Haystax Technology
Haystax Technology, Inc. is a leading provider of advanced analytics and cybersecurity solutions. Haystax provides a full range of services and analytic products to protect and certify mission-critical information and real-time actionable intelligence for total enterprise protection. Haystax solutions are relied upon every day to protect against threats to some of the most mission critical and high profile networks and institutions in the world. Haystax Technology is headquartered in McLean, Virginia, with offices in Herndon, Virginia, Raleigh, North Carolina, and San Francisco. For more information about Haystax, visit http://www.haystax.com or follow Haystax on Twitter @haystaxtech.