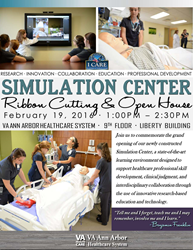 (PRWEB) February 19, 2016
CONTACT: Isaac J Grove, VAAAHS, (734) 222-6145
Isaac.grove(at)va(dot)gov
VA Ann Arbor Healthcare System Simulation Center Ribbon Cutting & Open House
What: VA Ann Arbor Healthcare System (VAAAHS) Ribbon Cutting & Open House for new Simulation Center.
When: Friday, February 19, at 1:00 p.m.
Who: U.S. Rep. Debbie Dingell, VA Ann Arbor Healthcare System leadership, Veterans, VAAAHS staff, community partners, various university leadership
Where: VA Ann Arbor Medical Center – 9th Floor via Liberty Elevators
2215 Fuller Rd.
Ann Arbor, Michigan 48105
Contact: Members of the Media are asked to RSVP with the following VA Official:
Isaac Grove, VAAAHS Public Affairs Specialist
isaac.grove(at)va(dot)gov, (734) 222-6145
Background Information: VAAAHS will commemorate the grand opening of its newly constructed Simulation Center – a state-of-the-art learning environment designed to support healthcare professional skill development, clinical judgment, and interdisciplinary collaboration through the use of innovative research-based education and technology.
About the VA Ann Arbor Healthcare System:
Since 1953, the VA Ann Arbor Healthcare System, including the VA Ann Arbor Medical Center, the VA Toledo Community Based Outpatient Clinic (CBOC), the VA Flint CBOC, and the VA Jackson CBOC, as well as the VA Center for Clinical Management Research, an HSR&D Center of Excellence, has provided state-of-the-art healthcare services to the men and women who have proudly served our nation. More than 65,000 Veterans living in a 19-county area of Michigan and Northwest Ohio utilized VAAAHS in fiscal year 2015. With 109 acute care beds and 40 Community Living Center (extended care) beds, there were over 6,300 inpatient episodes of care provided in the hospital and extended care center, and as a referral center for specialty care, there were more than 872,000 outpatient visits made at our facilities in fiscal year 2015.
# # #