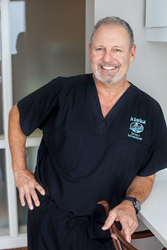 Mount Pleasant, SC (PRWEB) February 17, 2016
Dr. Kevin Hogan, esteemed Mount Pleasant, SC dentist, recently expanded his knowledge of dental implants by completing three courses on leading dental implant placement techniques. Dr. Hogan is dedicated to providing high-quality care to his patients by continuously furthering his education and experience. Patients with missing teeth interested in receiving dental implants in Mount Pleasant, SC, are invited to learn more about their tooth replacement options from Dr. Hogan.
Dr. Hogan completed his extensive dental implant trainings from three respected institutions: Misch International, the Triangle Dental Institute and the Zimmer Institute. These courses presented cutting-edge dental implant procedures for both simple and complex implant cases including those with multiple missing teeth. Live surgical demonstrations were completed and Dr. Hogan personally participated in hands-on trainings implementing these techniques.
Dental implants offer patients health benefits that are not achieved through other tooth replacement options, including the prevention of bone density loss. Dental implants are securely anchored in the jawbone with titanium posts that fuse with the surrounding bone to stimulate bone density growth and avoid bone loss. This process also provides the strength and stability necessary to allow patients to maintain a full and healthy diet. Dr. Hogan is committed to utilizing leading techniques that provide patients with high-quality implants that offer all the associated health benefits.
Patients with missing teeth interested in dental implants in Mount Pleasant, SC, are invited to contact Dr. Hogan to learn if implants are the best option for them. They are encouraged to visit Dr. Hogan's website or call his office at (843) 216-0908 to schedule a consultation.
About the Doctor
Dr. Kevin Hogan is a general dentist providing individualized care for patients in Mount Pleasant, SC. Dr. Hogan is a graduate of the Indiana University School of Dentistry and has completed hundreds of hours of continuing education courses to stay contemporary with the latest dental technologies. In addition, he has also completed coursework with the Dental Organization for Conscious Sedation and has lectured at the University of North Carolina, Emory University and the Saginaw Valley University. Dr. Hogan is a member of the American Dental Association, International College of Cranio-Mandibular Orthopedics, Academy of Laser Dentistry, International Association of Physiologic Aesthetics, Institute for Advanced Laser Dentistry, DOCS (the Dental Organization for Conscious Sedation), International Congress of Oral Implantologists and the South Carolina Dental Association. He is also a past member of the American Straight Wire Orthodontic Association, Maxillofacial Orthopedic Growth and Development, the American Academy of Pediatric Dentistry and the Functional Orthodontic Society. He and his team are dedicated to providing exceptional oral care to patients through personalized treatment plans. To learn more about the services offered by Dr. Hogan, please visit his website at http://www.smilesbyhogan.com or call (843) 639-5044.