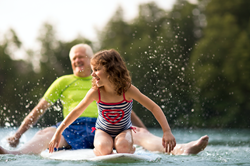 2016 Happiest Community in America
Miami, Florida (PRWEB) February 18, 2016
Real Estate Scorecard's in-depth research provides candid insight into the overall happiness and satisfaction of the 370+ master planned communities they monitor. To help buyers, they've obtained over 6,000 bona fide property owner reviews to date, so buyers can read what property owners have to say about their community on our website. Each year, Real Estate Scorecard honors the 'best' 15 with a Bliss Award. This year's Bliss Award winner for Happiest Community in America is The Cliffs, seven private communities in the Western Carolinas.
A common thread Real Estate Scorecard continues to see in the happiest master planned communities is a heartfelt bond between the property owners, which is something that can't be built with a hammer and nails. When it happens its magical, because the feeling of being genuinely welcome and included strikes a chord with everyone. The kindness is contagious and is something one can't put a price on. Many of the residents in today's lifestyle communities are Baby Boomer transplants who have relocated from somewhere else in the country, leaving their friends and family behind, and so finding these kind of warm and fuzzy neighborhoods is like finding gold.
To Real Estate Scorecard, The Cliffs is golden in so many ways. The seven private communities in the Western Carolinas all function as one. When someone owns at The Cliffs, they immediately become a member of the seven different clubs and have access to exciting amenities such as golf, boating, dining, tennis, hiking, biking, shopping and horseback riding. Property owners describe The Cliffs as "never having a dull moment" and as the "Disneyland for adults".
They have done an excellent job of building an ascetically beautiful atmosphere that's playful, entertaining and enriching. The assortment of fun things to do is a major contributing factor in keeping smiles on their property owners' faces. Each of the seven communities has a personality of its own. All seven of them have extraordinary golf courses which have earned highly acclaimed awards. Three of The Cliffs communities are on Lake Kewoee, an 18,500-acre mountain fed lake with 300 miles of shoreline. The four others are mountain communities in the Blue Ridge Mountains. Within a 100-mile radius are dozens of the top rated outdoor adventures in America.
The Cliffs at Keowee Vineyards is a lake community with its own equestrian center and beautiful Muscadine grape vineyard. The Cliffs at Mountain Park has gone retro, theming itself back to the days of making moonshine in a barn, and this is where the community's two mascots, bloodhounds Cooper and Shugar are the welcoming committee. The Cliffs at Walnut Cove is located at the base of the Blue Ridge Parkway and 15 minutes from downtown Asheville. The Cliffs members have confirmed our beliefs that living surrounded by the "Rocky Mountains of the East" adds to the joy and happiness felt everyday. The seven communities are perfectly positioned between Asheville North Carolina, Greenville South Carolina and the Nantahala National Forest. Within a 100 mile radius are dozens of the top rated outdoor adventures in America.
There are countless private communities across America, but what keeps a smile on property owners' faces is management's attention to detail, and The Cliffs has done that from day one. One property owner provides more insight by saying the "consistent quality in what Is offered to its members day to day, week to week, and year to year - a very hard standard to maintain, but The Cliffs does just that!" Everything they've built is arguably the best, from their seven golf courses and seven clubhouses to their six wellness centers. They've brought in some top name talent to lead their member programs, such as cyclist George Hincapie, LPGA golfer Austin Ernst, and a team of award winning executive chefs from around the world. The Cliffs has become a foodie paradise by offering farm-to-table cuisine every day. The Cliffs Wine Consortium boasts an impeccable list that will challenge the most finicky connoisseur. There are more than 4,000 events hosted at The Cliffs lake and mountain communities including the ten-day Wine & Food Festival dubbed IMBIBE.
The Cliffs has won so many awards, for the obvious, but Real Estate Scorecard finds the happiness of the people equally as important as the man-made features. They've read over 400 raving reviews from The Cliffs property owners that brought smiles to their faces reflecting complete satisfaction.
Families who are searching for a fun place to live should start by touring the Happiest Community in America® to see the ultimate in living. Congratulations to everyone at The Cliffs for providing such joy in the most beautiful region of the western Carolinas.
Contact The Cliffs directly at 866.411.5773 or info(at)cliffsliving(dot)com to request more information and to schedule a visit. Visit sevenforone.com to plan your Discovery Visit today.
About Real Estate Scorecard:
Real Estate Scorecard writes unbiased real estate reviews providing in-depth information about popular gated communities in Florida, Georgia, the Carolinas, Tennessee and Central America, all in an effort to help people discover where to retire in the South.
Website: http://realestatescorecard.com