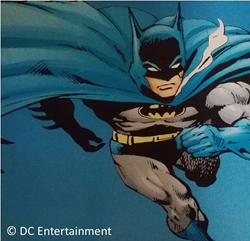 "O'Neil's work on Batman inspires comic, film & television fans and professionals throughout the world. O'Neil's focus on psychological and political issues gives his characters a depth which transcends fantasy", states Robin Rosenberg, GARNER's President
Garnerville, NY (PRWEB) February 18, 2016
GARNER Arts Center will honor the career of esteemed comic book writer/editor Denny O'Neil, a Rockland County resident, on March 5th, 2016. The event, sponsored by DC Entertainment, is timed with the release of the new Batman v. Superman: Dawn of Justice film (March 25th, 2016) and is a part of GARNER's 2015-­2016 Season, sponsored by Orange & Rockland Utilities.
In exploration of an extraordinary career, Mr. O'Neil will participate in a conversation with Michael Uslan, the Originator of the Batman movie franchise. Mr. Uslan is also Executive Producer of: Batman v. Superman: Dawn of Justice; Batman; Batman Returns; Batman: Mask of the Phantasm; Batman Begins; The Dark Knight; and The Dark Knight Rises. The conversation will be moderated by Paul Levitz, former President & Publisher, DC Comics. GARNER's Dye Works space will be filled with posters, artwork and videos from O'Neil's extensive collection.
O'Neil, known as the Dean of American Comics, is responsible for the vision of Batman in current comic and film lore. He has worked as an editor/writer for DC Comics and Marvel Comics and as a writer at Charlton Comics. Mr. O'Neil has received numerous awards throughout his career and was honored with the 2014 Will Eisner Hall of Fame Award at Comic-Con.
Mr. O'Neil began his writing career as a newspaper reporter, coming to New York as Stan Lee's Editorial Assistant at Marvel Comics. In 1967, O'Neil joined DC where, in addition to editing the Batman titles, O'Neil, a group editor, scripted such titles as Wonder Woman, The Justice League of America and 13 issues of Superman. After the cancellation of the Batman television show, Mr. O'Neil and artist Neal Adams took the character back to his roots and created the version of Batman which inspired all recent Batman movies and animated series. O'Neil and Adams collaborated to produce the Green Lantern-­ Green Arrow series which earned praise and media attention for its ground-­breaking combination of flamboyant fantasy and social themes.
During his career, O'Neil has written stories for numerous DC and Marvel Comics' major titles, including Batman, Spiderman, Iron Man, Hawkman, The Atom and Daredevil, as well as for Gentlemen's Quarterly and New York Magazine. O'Neil has authored numerous books and teleplays, and adapted Batman movies into comic books and novels, most recently Batman Begins, which was partially based on O'Neil's work.
GARNER will present Mr. O'Neil with its first Lifetime Achievement Award. "GARNER'S Lifetime Achievement Award celebrates the significant and sustained contributions of artists whose pioneering work has had national, and in some cases, international impact," states Robin E. Rosenberg, GARNER's President.
Tickets for this event are $65 for the VIP Meet & Greet with O'Neil and the panelists (includes one hour open bar and hors d'œuvres – limited to 50 attendees) or $40 for general admission tickets to the panel discussion and award presentation. Tickets and more information can be found at garnerartscenter.org.
GARNER is located within the Garnerville Arts & Industrial Center, aka "GARNER Historic District of New York", which is comprised of twenty-­eight 19th century buildings listed on the National and State Registers of Historic Places, and a creekside sculpture trail.
For more information or interview requests, please contact Program Director, Christine Olivier de Molina by email at Christine(at)garnerartscenter.org or by phone at 845-­947-­7108. This event is sponsored by DC Entertainment. The 2015-­ 2016 Season of Arts Programming at GARNER Arts Center is sponsored by Orange & Rockland Utilities. GARNER Arts Center is supported by the County of Rockland, the Town of Haverstraw, the Village of West Haverstraw and the Garnerville Arts & Industrial Center. GARNER's Rockland County print media sponsor is Rivertown Magazine. The Program Director's position is made possible by the New York State Council on the Arts with the support of Governor Andrew M. Cuomo and the New York State Legislature.