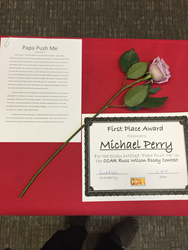 "I am humbled and very excited about winning the essay contest. As far as I am concerned every person who entered is a winner." - Michael Perry
Hartford, CT (PRWEB) February 19, 2016
CCAR hosted the Russ Wilson Essay Contest awards ceremony on Thursday, February 18th, 2016 at their new Recovery Training Center location at the Connecticut Non-Profit Center, 75 Charter Oak Avenue in Hartford, CT at 3:00 pm.
The winners are:
1. Michael Perry, "Papa Push Me" ($500)
2. Gwendolyn Bork, "In Honor of Russ Wilson" ($250)
3. Linda Kendrick, "Song of the Birds" ($100)
Michael Perry, the winner said, "I am humbled and very excited about winning the essay contest. As far as I am concerned every person who entered is a winner. Whatever recovery means to them is what is truly important. I hope with every entry it touches someone to stay in recovery, go into recovery, or be a positive part of someone's recovery. I love to write and what an opportunity and privilege it was to write an essay on "What Recovery Means to Me," and in the honor of a man, Mr. Russ Wilson who was passionate about writing and in recovery. Thank you and may we all find peace, love and happiness - one day at a time."
Honorable Mention winners are as follows:
Kim Green, "Three Sisters"
Kristine Beck, "What Recovery Means To Me"
Robin May, "What Recovery Has Given To Me"
Mary Kate Farley-Dimino, "The Kinship of Common Suffering"
Matthew Papapietro, "Untitled"
To read these essays click here.
Russ Wilson was a dear friend of Executive Director Phil Valentine and of CCAR, a man in recovery, a father, a son, a brother and a person who loved to write. Here's a sample of his writing, a "simple" facebook post.
"That moment, late late Friday afternoon with sunlight still coming in the west windows and another hour of daylight left; when, at the end of the soul-numbing, relentless winter, you understand, with the light, airy half of the year just begun and the trudged-out, slogging half just behind; you know on this first whole day of spring, that green trees, birdsongs, warm bright mornings, cool quiet evenings, are all not only possible, but imminent. Here's to THAT moment." ~March 21, 2014
Russ was an inspiration to many in the recovery community. CCAR sponsored the essay contest in his memory. Russ passed away on June 28, 2014 of what is now believed to be a subdural hematoma. He was just 55 years old.
*******
Since 1998 the Connecticut Community for Addiction Recovery (CCAR) has organized the recovery community (people in recovery, family members, friends and allies) to put a face on recovery and to provide recovery support services to help sustain recovery. By promoting recovery from alcohol and other drug addiction through advocacy, education and service, CCAR strives to end discrimination surrounding addiction and recovery, open new doors and remove barriers to recovery, maintain and sustain recovery regardless of the pathway, all the while ensuring that all people in recovery, and people seeking recovery, are treated with dignity and respect. CCAR envisions a world where the power, hope and healing of recovery from alcohol and other drug addiction is thoroughly understood and embraced.