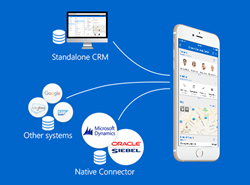 Resco's goal is to ease the transition into mobility for businesses by delivering native connectors to various CRM systems on the market.
Boston, Massachusetts (PRWEB) February 18, 2016
Resco, the provider of mobile solutions for Microsoft Dynamics CRM, announced today its strategy for expansion. The CEO of Resco, Radomir Vozar, revealed the new objective of the company is to become an ultimate problem solver for companies struggling with mobile enterprise strategy — regardless of the solutions and technologies they use.
Success of Resco Mobile CRM, a mobile client for Microsoft Dynamics CRM, led to a significant product upgrade – Resco CRM server that complements the mobile clients was added to the offering. Cloud-based or on premise, it provides a sleek and intuitive web browser client that looks the same as its mobile counterparts. The server offers native Office365 and Gmail integrations and can be connected to most CRM and ERP systems, or used as a standalone CRM solution that fully embodies the mobile-first strategy.
The growing awareness and popularity of Resco Mobile CRM inherently increased the interest in the leading Mobile CRM solution across multiple CRM or non-CRM communities. To satisfy this demand, Resco developers extended the support of new integrations. The new design of the integration layer allows anyone in Resco's ecosystem — partners, clients and re-sellers – to build their own integrations and to create in-house connections to other CRM or ERP systems.
Last year, Resco established its new partnership with Oracle, a well-known global provider of business hardware and software systems. Its market-favorite product Siebel CRM is one of the TOP 4 sought-after CRM systems on the market. Yet many companies using Oracle Siebel CRM struggle to find the fitting mobile CRM solution. Resco comes up with a fully-functional solution, also used by one of the world's leading innovative crop science companies: Bayer CropScience. They have globally and successfully implemented Resco Mobile CRM in addition to the Oracle Siebel CRM system.
Developing mobile technologies and products that serve businesses and people remains of the top priority for Resco.
"Our intention was to unite all parts of our technology into one unique product so that Resco can offer any organization a platform for its complete mobile strategy. This way, any corporation can provide a dedicated mobile app for its internal CRM and non-CRM users or external stakeholders, such as suppliers, partners, or customers – supported on all common mobile and wearable devices."
Radomir Vozar, CEO at Resco
Updated version of Resco Mobile CRM in now available at http://www.resco.net
About Resco
Resco is a market-leading provider of Mobile CRM for Microsoft Dynamics CRM and one of the global leaders in developing cross-platform mobile software solutions. The team of Resco professionals utilizes its knowledge by designing products for corporate customers, developers, integrators and end users.
About Resco Mobile CRM
Resco Mobile CRM is the all-in-one mobile solution that gives its users around-the-clock access to CRM data from anywhere. It can be utilized as a mobile edge to CRM systems, such as Microsoft Dynamics CRM, Oracle Siebel, SAP, or as a standalone CRM system. It offers offline capabilities, interactive maps, support of custom entities & many other attributes that make it the product people love to use.
For more information visit: http://www.resco.net