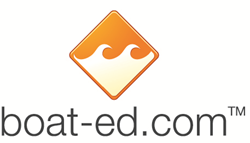 We are excited to have Boat Ed as the Premier Sponsor for the IBWSS. Their support will help further our shared interest in new boating and water safety trends and initiatives at this year's IBWSS
San Diego, CA (PRWEB) February 18, 2016
Boat Ed has recently been announced as the Premier Sponsor for the 20th International Boating & Water Safety Summit (IBWSS), held March 6-9, 2016, at the Hyatt Regency Mission Bay in San Diego, CA. The announcement was made by the National Safe Boating Council (NSBC), the National Water Safety Congress (NWSC), and the National Association of State Boating Law Administrators (NASBLA). The IBWSS is the premier event for training, awareness, meeting and networking for anyone involved in boating and water safety in support of the National Recreational Boating Safety Strategic Plan, 2012-2016.
Boat Ed's long-standing support of the IBWSS reflects the company's commitment to promoting education initiatives and making recreational boating safer. Boat Ed's support is driven by its dedication to providing print and online boating education courses to boaters in the United States and Canada.
"We're grateful for the opportunity to partner with the IBWSS. We're all in this together, and the IBWSS conference is a valuable time where we can all collaborate and advance the recreational boating and water safety mission," said Mitch Strobl, VP of Business Development for Boat Ed. "We all share a common interest of keeping the waters safer for all. The NSBC, NWSC, and NASBLA are instrumental drivers of that mission; the impact these organizations have is immeasurable, and we're thankful to join arms and march forward with them."
"We are excited to have Boat Ed as the Premier Sponsor for the IBWSS. Their support will help further our shared interest in new boating and water safety trends and initiatives at this year's IBWSS," said Richard Moore, Chair of the NSBC.
Boat Ed's history in recreational boating safety spans over 20 years. In 1995, Kurt and Cindy Kalkomey incorporated Boat Ed® to offer boating safety education and certification tests. Since then, Boat Ed has expanded across all of North America, now educating in all 50 U.S. states and Canada.
"It's our distinct pleasure to once again welcome Boat Ed as the Premier Sponsor of this year's IBWSS. Their sponsorship and their commitment to providing education are to be commended." said Brian Westfall, President of the NWSC.
"Boat Ed continues to be a leading innovator in helping state agencies, the boating public, and boating organizations like ours promote safe boating on America's waterways," remarked Darren Rider, President of NASBLA.
The 2016 IBWSS is co-hosted by the NSBC, NWSC, and NASBLA and it is produced in part with a grant from the Sport Fish Restoration and Boating Trust Fund, administered by the U.S. Coast Guard. To learn more about Boat Ed's Premier Sponsorship for the 2016 IBWSS, and for information on registration, exhibits, sponsorships and advertising, visit http://www.IBWSS.org.
About Boat Ed
Boat Ed® and http://www.boat-ed.com, owned by parent company Kalkomey Enterprises, Inc., is the official provider of recreational safety education materials for all 50 U.S. states and Canada. Our print and Internet courses have been providing official safety certification since 1995. We provide safety courses in boating, hunting, bowhunting, and off-road vehicle and snowmobile operation. For more information, visit http://www.kalkomey.com.