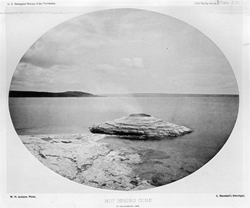 Finding this rare and historically significant collection of Albertypes was enormously exciting...
Cody, Wyoming (PRWEB) February 18, 2016
Starting March 21 in its John Bunker Sands Gallery, the Buffalo Bill Center of the West exhibits "Yellowstone Discovered," a selection of rare, nineteenth-century Albertype photographs of Yellowstone National Park. A formal opening takes place June 1, and the exhibit closes August 14. It is one of several programs at the Center to celebrate the National Park Service Centennial in 2016.
Using a process dubbed Albertypes, Edward Bierstadt, brother of the renowned western artist Albert Bierstadt, created superb images in his studio from photos captured by photographer William Henry Jackson who was part of the 1871 "U.S. Geological Survey of the Territories" led by F. V. Hayden. This method was a means to mass-produce the prints for the American public, and in Hayden's plan, would promote the Park's unique attractions.
According to Dr. Matthew Hermes, Research Associate Professor in the Department of Bioengineering at Clemson University in South Carolina, "The Jackson Albertypes, had they been used as originally intended, would have been the first effort to promote Yellowstone by photographs. We like to think they would have been broadly popular, the first 'coffee table' book perhaps."
Bierstadt had several volumes of the Jackson Albertypes in production at his New York studio in 1875. However, a fire at the studio destroyed the Jackson/Bierstadt Albertypes, along with Jackson's glass plate negatives and contact prints. As a result, the planned survey volume that focused on Yellowstone was never published, and the handful of Albertype sets that survived the fire—including the newly discovered album of 76 Albertypes, the most complete set known—are extremely rare.
Enteen, a collector of rare, early photographs, contacted Hermes when he discovered the Albertype collection; in turn, Hermes introduced him to Mary Robinson, Housel Director of the Center's McCracken Research Library. "This is such an extraordinary group of images that Dr. Enteen has loaned the Center," Robinson observes, "and how fortuitous that Dr. Enteen and Dr. Hermes brought it to our attention. We are excited to share it with our visitors."
"Finding this rare and historically significant collection of Albertypes was enormously exciting for me," Enteen explains, "and I am especially gratified by the eagerness of the staff at the Center of the West to feature them as part of the centennial celebrations…"
To learn more about the McCracken Research Library, visit its webpage.
Since 1917, the award-winning Buffalo Bill Center of the West in Cody, Wyoming, has devoted itself to sharing the story of the authentic American West. The Center, an affiliate of the Smithsonian Institution, is open 10 a.m. – 5 p.m. Thursday – Sunday, closed Monday - Wednesday. Starting March 1, the Center is open daily. For additional information, visit the Center's website or its pages on Facebook and Google+.