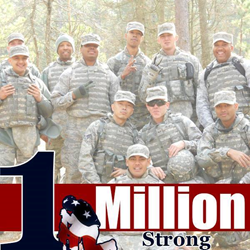 I was honored that they would chose the 18th to honor my buddies. I love their mission and what they are doing for our troops and their families
Indianapolis, Indiana (PRWEB) February 18, 2016
1 Million Strong understands the burdens shared by families in the United States military and is focused on helping these military families maintain their strength and wellness during the transition from pre to post deployment. 1 Million Strong was established by a local group of active members, veterans, and civilians who have experienced the hardships associated with loved ones serving this Nation.
1 Million Strong is committed to a healthy military family and recognizes that these known stresses not only affect the members deployed, but also their spouses and children. A major challenge facing current and retired members of the U.S. military is depression and suicide.
According to a statement released on 1 February 2013 by the U.S. Department of Veterans Affairs, Office of Public and Intergovernmental Affairs, then Secretary Eric K. Shinseki noted, "The mental health and well-being of our courageous men and women who have served the Nation is the highest priority for VA, and even one suicide is one too many."
1 Million Strong was initially started as a Facebook group to provide an outlet for U.S. citizens to leave a message of thanks for military members; however, its founders determined the crucial necessity to begin the incorporation of a nonprofit, because immediate action is crucial to assist those deployed and their families. The late British Prime Minister Winston Churchill once poignantly stated, "Never in the field of human conflict was so much owed by so many to so few."
The date of February 18 was chosen to honor four Air Force Special Operators who died when their U-28 plane crashed after returning from an Operation Enduring Freedom mission over east Africa. Two captains, Ryan P. Hall and Nicholas S. Whitlock, Lt. Justin J. Wilkens and Senior Airman Julian S. Scholten, lost their lives in this crash.
When looking for how to implement our 1 Million Strong overlay we reached out to ProfileOverlays.com and learned it was owned by an active duty Major, Tony Weedn. Major Weedn was the one who told us how important February 18th was to him and his comrades. "I was honored that they would chose the 18th to honor my buddies. I love their mission and what they are doing for our troops and their families."
1 Million Strong is passionate about standing in the gap and assisting military families, while jointly working with other non-profits with similar missions. 1 Million Strong encourages everyone to show their support for men and women in uniform protecting this great Nation, at home and abroad, because the sacrifices made by these warriors are for the protection and preservation of the freedoms and liberties cherished by all Americans.
If you want to show your support and help reach our goal of 1 Million Strong click here to change your profile picture on Facebook to our 1 Million Strong Overlay.
For more information about 1 Million Strong, please visit http://www.Syntinels.com and join us in making an everlasting impact in the lives of these brave men and women who have sacrificed so much for our Country.
###
-------
If I have seen farther than others, it is because I was standing on the shoulder of giants.
~Isaac Newton