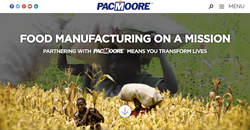 Hammond, IN (PRWEB) February 19, 2016
PacMoore Products revealed its new mobile-friendly website http://www.pacmoore.com. This is just one example of how the contract manufacturing company is leading the industry in the digital space. The new website is designed to better connect with existing and future customers, while integrating their mission. The website provides visitors the information they are looking for in an engaging format.
The new website "will help us with connectivity and relationship building by telling our story better and helping everyone who enters the site understand quickly and clearly what we do in order to meet the exact needs they have, and connect with them in a way that is meaningful to them," says Chris Bekermeier, VP of Marketing at PacMoore Products.
A company's website is often the first impression for potential customers.
"The website will attract more customers and better explain where we can engage them and meet their needs," says Bekermeier. "The website also explains our deeply held desire to use our business to engage people in ways that offer whole life transformation opportunities to everyone with whom we come in contact with."
While there are many differences between PacMoore Products' old website and the new design, the most noticeable improvements include:

An integration of all PacMoore Products' local and global business and missional initiatives, which provides a better understanding of the connectivity between them.
Expanded video content, engaging visitors in the way people increasingly want to receive information.
A new History page that brings the PacMoore story to life.
Mobile-friendly design for optimum functionality with unique deliveries for smartphones, tablets and laptop/desktop computers.
Beyond providing the highest quality products for its customers, PacMoore's greater mission is to leverage the success their excellent execution brings to foster whole life transformation to the people they serve. That means forging customer relationships built on trust, accountability and communication. It means creating jobs, promoting a culture of respect and integrity, and building sustainable communities both locally and globally.
That mission is now clearly communicated in the company's new website.
For more information on PacMoore Products, visit http://www.pacemoore.com or connect with them on Facebook, Twitter, LinkedIn, Google+ or Instagram.
About PacMoore Products
PacMoore Products is a growing, privately held food-grade, dry ingredient, contract processing and packaging company headquartered in Hammond, Indiana. The company provides seamless outsourcing solutions, custom-tailored to its customers' product.
PacMoore's two plants in Hammond, IN and Mooresville, IN offer the perfect blend of flexible equipment and unmatched industry expertise.